Would you love to see the famous Caminito del Rey while staying for a holiday in Costa del Sol? In that case, you're at the right place!
This article will offer detailed information on all options available for planning the Caminito del Rey day trip from Torremolinos, including lots of practical tips and insights from my recent trip.
If you prefer to book right away without reading further, below you will find a link to my recommended local travel company that offers this trip – just click the link to select the dates, and see availability and prices for this trip with pick up in Torremolinos.
BOOK ONLINE: From Torremolinos: Caminito del Rey Guided Tour with Tickets & Transport
Your Options for Caminito Del Rey Day Trip From Torremolinos
There are three options to consider when planning your day trip.
In my opinion, the easiest and often most time and cost-effective is using a local travel company that will comfortably get you to the destination without you having to worry about navigating the local traffic or planning your day around train departures.
Below you will find a detailed breakdown for each, and at the end of the article I have included some practical tips and info you should know before getting there.
No 1: Caminito Del Rey Day Trip From Torremolinos with Guided Tour & Transport
Probably the easiest, fastest and most cost-effective option to see Caminito del Rey is often by booking a tour from a local travel company. It has a number of advantages, including:
no need to navigate the local traffic in a rented car
no hassle finding the correct entrance and parking at Caminito del Rey
tour guide with the English language included
no need to worry about timing your arrival correctly
travel in an air-conditioned comfortable bus
free cancellation and reserve now pay later policy
pick up from a central location in Torremolinos
BOOK ONLINE: From Torremolinos: Caminito del Rey Guided Tour with Tickets & Transport
Click the link above to see available dates for this trip with starting times included.
No 2: Caminito Del Rey Day Trip From Torremolinos with Rented Car
If you have already rented a car for your stay in Torremolinos, it makes sense to drive to Caminito del Rey yourself. The outline of the journey on google map is below, and here is a quick glance overview of what you need to know:
The distance travelled is approximately 65 km
The duration of the journey will be just under one hour, depending on the traffic
You should park at the reception center parking lot, from where you will get a shuttle bus to the entrance to Caminito del Rey (north access)
It is recommended that you reach the parking lot at least ONE HOUR before your scheduled entrance to the path
The shuttle bus costs 2.50 euros return, and they run every 20 minutes (the last bus back to the parking lot is 7pm)
The bus will drop you off on the main road, where you will see a small tunnel with the sign for Caminito (in pic below)
From the sign, you walk through the tunnel and continue until you reach the entrance point, about 1.5 km which should take roughly 20 minutes
Most important – buy your tickets in advance, you can't get them on the spot!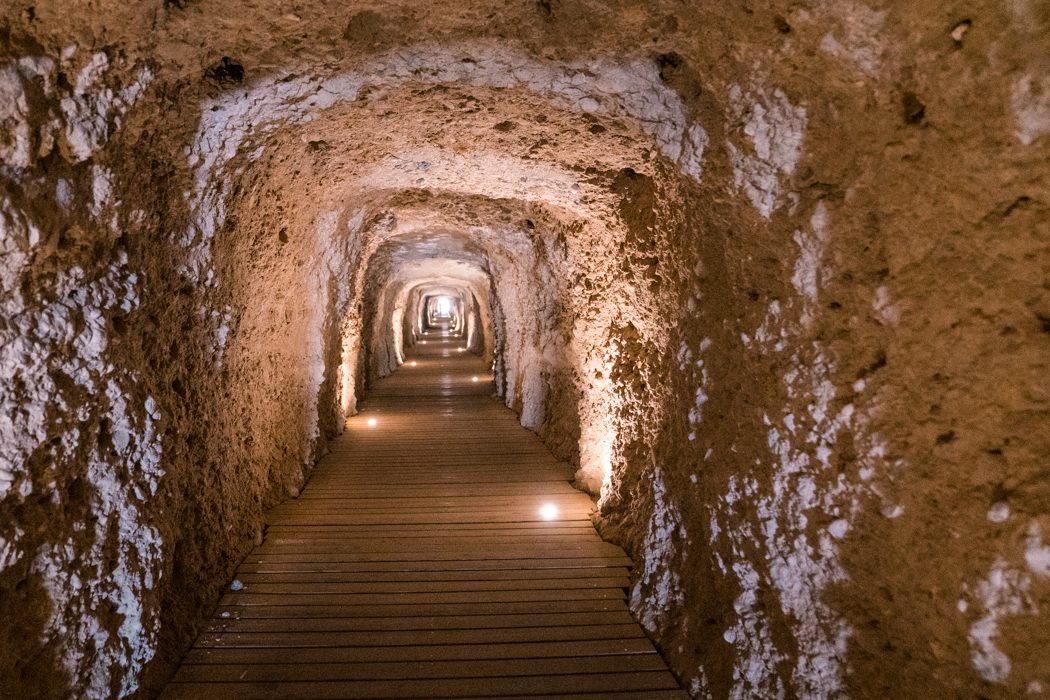 No 3: Caminito Del Rey Day Trip From Torremolinos with Public Transport
If you're planning to use public transport to get to Caminito del Rey, you need to leave yourself plenty of time to ensure you can get there on time as you have to take a connecting train from Malaga.
From Malaga, there is a new train connection that opened in spring 2023, which will take you to El Chorro from where you will be able to get a shuttle bus to the entrance route.
this route will need quite a bit of advance planning to get your train departures to align correctly, and to make sure you get to the entrance of Caminito del Rey on time.
Check the train times at Renfe website before purchasing your entrance tickets, to make sure you have enough time to make it to the entrance (taking into account the shuttle bus journey – the buses run every 20 mins from El Chorro)
first, you need to take the local C1 train towards Malaga and get off at Malaga Maria Zambrano station – the trains run every 20 minutes and the journey takes 30 minutes.
from Malaga, take a train to El Chorro – there are 8 departures per day from Malaga, with ticket prices of 3.50 euros one way
the journey duration is about 40 minutes
from El Chorro, you need to catch the local shuttle bus to Caminito del Rey, which runs every 20 minutes and its a very short journey. From the drop-off point, it's about 1.5 km walk to the entrance where you need to be at least 15 minutes before your indicated entrance time on the tickets (to listen to safety instructions and pick up your helmet)
Book Online: Caminito Del Rey Day Trip From Torremolinos
BOOK ONLINE: From Torremolinos: Caminito del Rey Guided Tour with Tickets & Transport
use the link above to select your trip dates from the calendar
this trip includes transport and a guided tour (helmets are provided too)
if you see that your dates are sold out, in most cases you can still get entrance tickets here, and then rent a car or use the public transport option
it is highly recommended to book this trip as soon as you know the dates for your stay in Torremolinos, as it's very popular and sells out pretty fast
if you don't see available dates for this trip either as a day trip or just buying entrance tickets, you can still check at your hotel as they might recommend other local companies that will have tickets available
to book your tickets you will need to provide your ID details, and also take it with you for the trip as they might ask to see it by the entrance
Top Tips for Caminito Del Rey Day Trip From Torremolinos
Here are some practical tips you should keep in mind before visiting:
in the information provided, they say that backpacks are not allowed, by they mean large camping style backpacks. You will be fine with a standard-size backpack.
bring water with you, you will need it!
choose your shoes wisely – wear something comfortable (on my trip there were two ladies in flowy mini dresses and shoes that were definitely not intended for hiking)
no hiking sticks or umbrellas are allowed
no selfie sticks or tripods
you will need to wear the helmet at all times, even for pictures
there are some areas where there is a high risk of rocks falling, so you should not stop there for extended periods of time (your guide will indicate this)
do not remove any rocks, flowers or other natural elements
no smoking
stick to the trail as indicated
you will need to cross a suspension bridge, so for those who are afraid of heights you can ask help from a member of staff that's standing at the entrance to the bridge
this trip is not recommended for people with reduced mobility and kids under the age of 8
at the end of the trail, you will hand over the helmets
at the exit of the trail there are some stalls with refreshments (drinks and food), toilets and some small stalls with souvenirs
BOOK ONLINE: From Torremolinos: Caminito del Rey Guided Tour with Tickets & Transport
FAQ: Caminito Del Rey Day Trip From Torremolinos
Is the path dangerous?
No, it's not! There have been zero incidents since it's been reopened following a full reconstruction.
Do I need guided tour in Caminito del Rey?
If you're buying tickets for Caminito del Rey, you will see that you have the option to have either a simple ticket to explore on your own, or a ticket with a guide. There is no obligation to have a guide walk you through the trail as the direction is fairly easy to follow.
I had tickets with a guide only because the basic ones were sold out. While the guide was useful to find some interesting info about the trail, it wasn't something that was crucial to enjoy the experience, so I would happily skip it next time.
How long does the Caminito del Rey path take?
On average it would take you about 1.5 hours to walk, depending on if you're with a guided group or on your own.
Is Caminito del Rey open in bad weather?
No, in bad weather, rainy conditions and through the winter, the trail is closed for visits.
Can I take a backpack to Caminito del Rey?
Yes you can! Only large camping style backpacks are not allowed.
Other Day Trips from Torremolinos
Day Trip From Torremolinos To Ronda: Book Online + Local Tips
Day Trip From Torremolinos To Gibraltar: Book Online (With Local Tips)
Southern Spain Travel Tips
BEST CAR RENTAL
To rent a car, I highly recommend Discover Cars, an award winning price comparison site for car rentals.
BUS & TRAIN TICKETS
To get the cheapest bus or train tickets, take a look at Omio to find the timetables and prices.
LOCAL TOURS
Local travel companies offer many day trip options from almost all the destinations in Southern Spain. You can check them out here.
HOTELS
I have been using booking.com for all my trips in Spain and abroad, and it's the best place to book your hotel.
LUGGAGE STORE
If you would like to leave your luggage behind to explore the city on your last day, you can use Radical Storage service, which lets you book luggage storage in all the destinations in Spain.
LOCAL SIM CARD
If you want to avoid surprising extra charges from your operator, you can use a service like Airalo, where you can buy digital packs for e-sim cards.
Disclaimer: This post contains affiliate links – if you decide to book using one of the links, I will earn a small commission that helps me run this site. This is at no extra cost to you.