If you're coming for a holiday or day trip to Seville, you're in for a treat.
It's a photographer's paradise – the whole city is absolutely stunning and every city corner, street or building will inspire you to take out your camera and snap away.
From all the cities I've visited in Andalusia, Seville is by far the prettiest and best maintained.
Don't get me wrong, each of the Spanish cities has something to offer, but in terms of photo opportunities, I think Seville is the best.
If you're looking for a bit of inspiration on where to get the best photos, I put together this visual and practical guide, following my 5 day stay in the city.
Photography Tips for Seville
Before we dive into the locations, here are a few tips to get the most out of your trip:
Seville is a very popular destination and gets predictably crowded, especially in the summer. If you want to get nice photos in one of the tourist hot spots, get there as early as they open up, or if its a public space, just around sunrise. That way you have the place more or less for yourself and get nice photos without other people in them.
Beware of pickpockets and don't hang your camera at the back of the chair – I've done this mistake a number of times and each time the waiter in the restaurant warned me about it. The camera or handbag can get snatched away in seconds, so be careful. Also applies to situations when you're in a big crowd of people.
If you're visiting in the summer, the mid day sun can be very unforgiving for taking photos. If possible, do take the siesta that the locals swear by and rest around lunch time. The light in late afternoon is much better for photos and you will have more energy too after getting some rest.
Selfie sticks are forbidden in most locations, so don't bother bringing one with you
Indoor photography in most of the historic locations like the Cathedral or some of the palaces is allowed, but you cannot use your flash.
If you're on a tight schedule and want to get most out of your trip, hire a private tour guide for the day – this will save you a lot of time getting lost between the location and the guide can point you to some other pretty places not mentioned in this article. As a bonus point – the guide can take some photos of you in the locations, which is especially useful if you want to have some group photos or photos with your travel partner.
Most Popular Experiences in Seville
Here are some highlights you can experience while staying in Seville.
10 Best Photography Locations in Seville
Here are my picks for the best picture-friendly locations in Seville, in no particular order.
1. Plaza de España
Plaza de España in Seville has to be one of the most photographed and best known squares in the country.
That's not only because of the blockbuster movies shot here (Lawrence of Arabia, Star Wars), the impressive size of the plaza, and artistic execution, but also due to the fame it has gained on Instagram.
The plaza covers a total area of 50,000 square meters and has also a 515-meter long Venice-style canal that you can explore by boat. No wonder they call it the Venice of Spain!
For best photos, head there early in the morning when the sun hides behind the building, or late afternoon when you get the whole building lit up. If you want pictures on the boats, they tend to open the ticket booths around 10am and there might be queues already, especially in the summer.
For some photo inspiration for this location, check the article below for more details.
READ MORE HERE: The Venice of Spain: Plaza de España, Seville
2. Seville Old Town
One of my favorite things to do in Seville was getting lost in the small streets and alleyways of the old town, to discover beautiful hidden corners, pretty courtyards and photograph the gorgeous old buidlings you can only find there.
It feels like you take a trip with a time machine as soon as you enter this area, and together with the Alcazar I believe the old town has some of the most beautiful photography locations in the city.
3. Royal Alcazar & Gardens
The Alcazar of Seville (official name Alcázares Reales de Sevilla) – is the crowning glory of Seville and its most impressive monument. It's still actively used as the residence of Royal family and one of the most visited monuments in Andalusia.
The Royal Alcazar features some of the finest examples of Mudejar style, and combines elements of Roman, Gothic and Renaissance architecture, all in one building.
The Alcazar complex is quite vast, not even talking about exploring the gardens, so give yourself plenty of time to see it all.
From all the places mentioned in here, the Alcazar gives you the most photographic opporutnities and its one of the most unique locations.
READ MORE HERE: Visiting the Royal Alcazar of Seville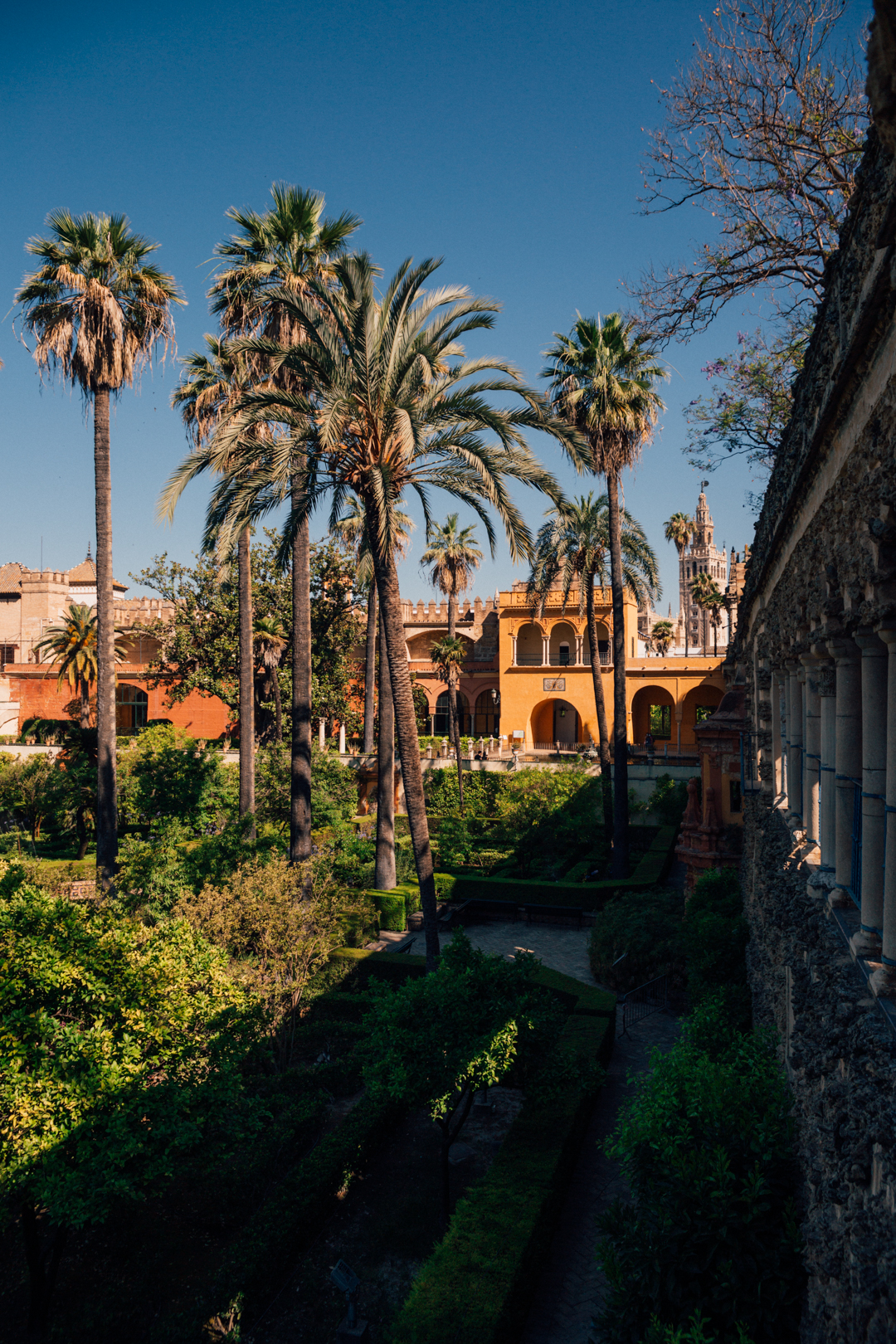 4. Triana District
Triana (Bario de Triana) was on my list of places to see in Seville, but as I run out of time I didn't see as much of it as I would have liked.
Sitting on the banks of the river Guadalquivir with its striking coloured houses, it provides an opportunity to explore a bit different side of Seville.
The district is known for it's Flamenco culture and as the neighbourhood of artisans. It has lots of beautiful historic buildings and the colored houses on the river banks give you an original backdrop for some unique photos from Seville.
While there, hop on a boat trip to see the city from a different vantage point.
5. Palacio de las Dueñas
Las Dueñas is one of the finest examples of Andalusian architecture, combining Moorish, Rennaisance, and Gothic influences. It was built in the 16th century and it is considered to be of great architectural and historic heritage.
Palacio de las Dueñas is a short walk away from Casa de Pilatos, so you can easily visit these two in one day.
The stunning architecture itself is worth the trip not just for the photos, along with the lush gardens and an impressive collection of artifacts.
Much smaller and less crowded than the well known Alcazar, with plenty of places to shelter from the sun in the summer, the palacio is a beautiful little hidden gem with lots of photography potential.
Get inspired by my original blog post linked below.
READ MORE HERE: Palacio de las Dueñas, Seville
6. Casa de Pilatos
Cada de Pilatos in Seville – the finest example of traditional Andalusian architecture and the prototype of an Andalusian palace.
During the 16th century, Seville was known as 'the new Rome' and this palace is truly a testament to that.
The palace has a mix of Renaissance and Spanish Mudejar styles in the 15th century, with Gothic elements added later on. The gardens are not as impressive and large as in the Palacio Duenas, but the beautiful courtyard and architecture makes up for it.
More photos and location ideas are in the linked blog post below.
READ MORE HERE: The Gem of Andalusian Architecture: Casa de Pilatos, Seville
7. Setas de Sevilla
Las Setas de Sevilla (Wild Mushrooms of Seville), or also known as the Metropol Parasol, is a large wooden structure located in the old city center, at Plaza de la Encarnación.
The monument sticks out above the old buildings, and many say is an eye sore and insult to the architecture of the town. I will let you be the judge of that.
Photography-wise, it gives you an opportunity to observe the old town from a different vantage point, and at sunset, it offers amazing photo opportunities.
Check out the blog post linked below for more details.
READ MORE HERE: The Monument of Controversy: Las Setas de Sevilla
8. Seville Cathedral & Giralda Tower
Seville Cathedral, also known as the Cathedral of St Mary of the See, is a Roman Catholic church which has been part of UNESCO World Heritage sites since 1987. It is the largest Gothic church in the world, and fourth-largest church in the world.
The cathedral took nearly 500 years to complete and it features a mix of architectural styles which just underline its beauty.
It is known to be a burial place of Christopher Columbus (his son is also buried here) and part of the Cathedral serves as the Archbishop's Palace.
If that's not impressive enough, there is also a 105 m high bell tower which used to be a minaret that was part of the old mosque standing here. The views from here are amazing!
As you would expect, the inside of the cathedral is pretty dark, and flash photography is not allowed. Despite that, it's well worth the trip and climbing the stairs in the Giralda tower.
Fore more information and more detailed photos, check the blog post linked below.
READ MORE: Seville Cathedral & Giralda Tower
READ MORE: Seville Cathedral Tickets: Top Tips To Save Money & Time
9. Parque Murillo
This park was conveniently located close to my Airbnb and a short stroll away from the Alcazar. At the time of my visit (May), everything was blooming and the park was stunning!
It's relatively quiet in the mornings and has so many nice spots to take pictures! If you have some spare time on your trip, it's well worth the visit.
10. Parque Maria Luisa
This park stretches just behind the Plaza de Espana and with its lush flower gardens and beautiful tree shaded paths, it's the perfect place to wander around with a camera in hand.
In spring when everything is in full blooms, it's especially beautiful. The park has a small lake with a few ducks, and if you're travelling with kids, they will love it here.
There are horse carriage rides available at the entrance to the park, should you fancy seeing it from a different vantage point.
That concludes my list!
I will keep udpating these locations as I return to Seville and discover more beautiful places.
Discover More in Seville
Is Seville Worth Visiting? (A Guide by a Local)
Best Day Trips from Seville (Complete Guide)
Getting from Seville to Cadiz: Your Complete Transport Guide
Best Restaurants in Seville (Spain)
Casa de Salinas: Seville's Finest Private Palace Residence
Southern Spain Travel Tips
BEST CAR RENTAL
To rent a car, I highly recommend Discover Cars, an award winning price comparison site for car rentals.
BUS & TRAIN TICKETS
To get the cheapest bus or train tickets, take a look at Omio to find the timetables and prices.
LOCAL TOURS
Local travel companies offer many day trip options from almost all the destinations in Southern Spain. You can check them out here.
HOTELS
I have been using booking.com for all my trips in Spain and abroad, and it's the best place to book your hotel.
LUGGAGE STORE
If you would like to leave your luggage behind to explore the city on your last day, you can use Radical Storage service, which lets you book luggage storage in all the destinations in Spain.
LOCAL SIM CARD
If you want to avoid surprising extra charges from your operator, you can use a service like Airalo, where you can buy digital packs for e-sim cards.
Disclaimer: This post contains affiliate links – if you decide to book using one of the links, I will earn a small commission that helps me run this site. This is at no extra cost to you.