Cada de Pilatos in Seville – the finest example of traditional Andalusian architecture and the prototype of an Andalusian palace.
During the 16th century, Seville was known as 'the new Rome' and this palace is truly a testament to that.
The palace has a mix of Renaissance and Spanish Mudejar styles in the 15th century, with Gothic elements added later on.
The origin of the name is quite interesting too.
It is related to 'via crucis' (journey through the stations of the Cross) which began to be celebrated in Seville in the 16th century. The palace is named after Pontius Pilate, a well know figure from the Bible connected to the trial of Jesus. Fadrique Enriques de Ribera, one of the main influences on the building's architecture, was inspired by him during his pilgrimage to Jerusalem.
There are over 20 different palatial houses in Seville, but Casa de Pilatos together with Palacio Duenas are among the most beautiful ones.
Let me take you on a tour!
Entrance
Just looking at the entrance, you would never expect that a massive palace hides behind these crumbling walls.
You can find the palace at Plaza de Pilatos, near Águilas Street – it wasn't hard to find, but there are almost no signs pointing to it. I went with google maps and had no issues locating it.
You can get your tickets at the booth by the entrance, it is not possible to buy them online on the official website.
Main Courtyard
The main courtyard is a traditional Andalusian style with a fountain in the middle.
On the walls of the gallery, you will see 24 busts of Spanish kings, Roman emperors, and other known historic icons.
From the main courtyard, you can enter many of the palace's rooms, and also its two gardens.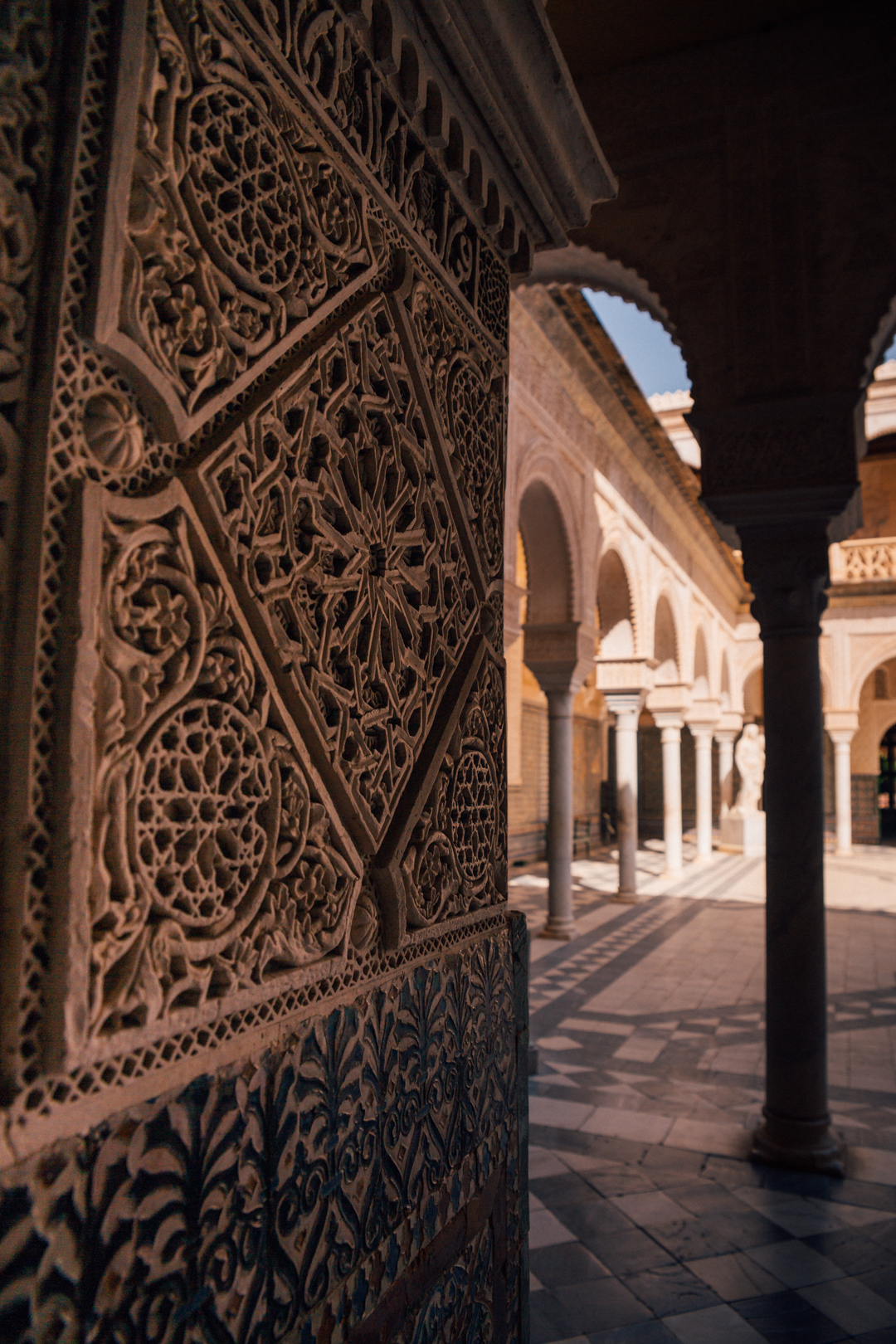 Ground Floor Rooms
As you enter any of the rooms on the ground floor, the sheer number of tiles and detailed decorations on the walls will impress you.
The rooms are mostly empty, and some of them contain beautiful examples of Italian statues and decorations.
Gardens at Casa de Pilatos
The gardens feature a traditional Italian style.
There is a main large garden and a smaller one, both equally beautiful and lush. You can get to both of them from the main courtyard.
The large garden had fairly limited access, we couldn't go and explore it in its full size.
The Staircase
The upper floors were closed to visitors, but the staircase leading to the landing was still open.
The staircase is very wide with a high ceiling, covered by azulejo tiling on the walls and Mudejar honeycomb ornaments in the ceiling.
The ceiling on the landing has a wooden dome with spectacularly detailed ornaments carved into it.
The effect is breathtaking.
The direct bright light coming from the small windows combined with the dark tiles and the sheer size of the staircase creates a moody atmosphere, cut out straight from a movie scene.
The palace today remains the residence of the 18th Duchess of Medinacelli and her family.
And this concludes our virtual tour!
Hope you enjoyed it!
Below is some practical information to plan your visit, along with some other suggested articles from my stay in Seville.
Casa de Pilatos Visitor Information
Opening hours: 9 am to 6 pm on weekdays
Entrance fees: 10 euro for adults, under 12 years old free
Guided tours: available to book here.
Location: marked on a map here. Address: Plaza de Pilatos, 1 – 41003 Sevilla.
Visit duration: I spend around 1 hour exploring the palace if the upper floors were open possibly longer.
Trivia: the palace was used as a movie set for Hollywood blockbusters like Lawrence of Arabia, 1492: Conquest of Paradise, Kingdom of Heaven, and most recently also Tom Cruise and Cameron Diaz movie Knight and Day.
Most Popular Experiences in Seville
Here are some highlights you can experience while staying in Seville.
Explore More in Seville
Monument of Controversy: Las Setas de la Sevilla
Visiting the Seville Cathedral & Giralda Tower
Best Day Trips from Seville (Complete Guide)
Seville Cathedral Tickets: Top Tips To Save Money & Time
The Foodie's Guide: Best Restaurants in Seville
Your Detailed Guide to Visiting the Royal Alcazar of Seville
How to See Seville in One Day: The Perfect Itinerary for All Highlights
The Venice of Spain: Plaza de España, Seville
Southern Spain Travel Tips
BEST CAR RENTAL
To rent a car, I highly recommend Discover Cars, an award winning price comparison site for car rentals.
BUS & TRAIN TICKETS
To get the cheapest bus or train tickets, take a look at Omio to find the timetables and prices.
LOCAL TOURS
Local travel companies offer many day trip options from almost all the destinations in Southern Spain. You can check them out here.
HOTELS
I have been using booking.com for all my trips in Spain and abroad, and it's the best place to book your hotel.
LUGGAGE STORE
If you would like to leave your luggage behind to explore the city on your last day, you can use Radical Storage service, which lets you book luggage storage in all the destinations in Spain.
LOCAL SIM CARD
If you want to avoid surprising extra charges from your operator, you can use a service like Airalo, where you can buy digital packs for e-sim cards.
Disclaimer: This post contains affiliate links – if you decide to book using one of the links, I will earn a small commission that helps me run this site. This is at no extra cost to you.