Malaga is such a wonderful base for exploring Andalusia.
With its international airport, established train and bus connection, and a well-connected system of highways, it's really easy to explore the country as much as your heart desires.
Even if you're not planning to rent a car while you're staying for a holiday, it won't stop you from enjoying most of what's there to see in and around Malaga (just like I did).
I hand-picked some of my favorite day trips from Malaga, with a few that are still on my wishlist (and will be updated throughout the year).
I focused on the destinations with reasonable travel time for a single-day trip – up to 2 hours one way. Anything beyond that has not been included even though a lot of places like Cadiz or Tarifa are certainly worth seeing.
My Handpicked Best Day Trips from Malaga
Here is a quick overview of what I have included:
Benalmadena Costa, Pueblo & Castillo Colomares
Fuengirola & Mijas Pueblo
Caminito del Rey
Nerja
Frigiliana
Antequera
Ronda
Granada
Cordoba
Marbella
Seville
#1 – Benalmadena Costa, Pueblo & Castillo Colomares
Starting with the closest town and the one offering the most diverse experiences – Benalmadena has everything you need to see in a picturesque Andalusian village, plus gorgeous beaches, small charming harbour and everything else in between.
Oh, did I mention the castle?
Get a short train ride to Benalmadena Costa where you can admire the local harbour, visit the Sea World with your kids and walk around the coastal promenade.
When you had enough of the sea, grab a short taxi drive up to the hills where you will find Benalmadena Pueblo, the old part of the town offering stunning views of the coastline and a few hidden treasures – one of them is the Castillo de Colomares, a stunning monument dedicated to the travels of Christopher Columbus.
Read more:
Visiting Paloma Park in Benalmadena
Malaga to Benalmadena
Distance: 20km
By car: about 30 mins on the highway
By train/ bus: there is a direct Renfe train connection from Malaga which goes all the way to Fuengirola. The journey is approximately 15-20 minutes and you can get the tickets from one of the machines at the Maria Zambrano Station (they are really cheap too).
Bus routes are not as easy to use for getting into Benalmadena, a change might be needed and it could take up to an hour.
#2 – Fuengirola & Mijas Pueblo
Fuengirola is the second home for lots of expats from Nordic countries who fled here during the winter months.
In the summer, its a full-on tourist destination but thanks to the 8km of sandy beaches, it doesn't get too crowded.
High up on the list is a visit to the Bioparc in Fuengirola, which for me feels like a mix of urban jungle with a zoo. Unlike traditional ZOO, the animals in here are really well taken care of, their enclosures are huge and lush, with lots of greenery. It truly feels like a jungle oasis in the middle of the city and it's well worth going just to see the stunning surroundings they created here.
If you fancy a walk in the sun, the coastal promenade stretches for kilometers and has plenty of spots to stop for nibbles and drinks. At the end of the city, you will find Sohail Castle, an old defense monument offering beautiful views of the coastline and it's a great little hike to get up there.
If you're coming to Fuengirola, it's well worth leaving some time to visit Mijas Pueblo which stretches in the hills just above the city. There is a bus line connecting the town with Fuengirola, leaving from the main bus station. Alternatively, its also a very short 10-15 min drive.
Mijas Pueblo still has a lot of the traditional Andalusian village charm, but it is very much catering for a large tourist crowd.
There is an old bullring, and large public gardens stretching along the edge of the town offering panoramic views of the whole coastline. You will find lots of local shops to browse through and enjoy a walk through the old cobbled white-washed streets.
Read more:
Malaga to Fuengirola / Mijas Pueblo
Distance: 30 – 35 km
By car: 34 mins on the highway
By train/ bus: the Renfe trains run from Maria Zambrano Station directly to Fuengirola with a few stops along the way. The journey takes around 40 mins and costs around 7-8 eur one way.
There is also a bus route between the cities but it takes a lot longer than taking the direct train.
#3 – Caminito Del Rey
For those who prefer more natural pursuits, Caminito del Rey will be certainly a highlight of the holiday.
Located 60km north of Malaga, this old walkway is pinned to the edge of the mountain rock in the El Chorro gorge (3km in length). It reopened in 2015 following extensive renovations and it is now one of the most popular attractions outside of Malaga.
It has a bit of a dark history – it was once known as the most dangerous walkway in the world. Back before the renovation, the pathway fell into disrepair, and due to its dangerous condition 5 people lost their lives while climbing it.
If you fancy conquering your fear of heights, add this to your travel wishlist when visiting Malaga!
I've planned my trip here for this year when my mum comes for a visit and will add photos later. For now, feel free to take a virtual tour of the pathway here.
Malaga to Caminito del Rey
Distance: 59km
By car: 52 minutes via A-357
By train/ bus: no connections available but you can book a tour with one of the local travel agencies and get there with a mini bus.
#4 – Nerja
One of the gems of the Costa del Sol, Nerja is known for for Balcony of Europe (gorgeous viewpoint) and also some record-breaking caves just outside of the town.
Nerja is a really good base if you want to do some nature walks as the walking paths around the coastline start here, or see some of the gorgeous Andalusian white towns, like Frigiliana (see next point).
Read more:
Malaga to Nerja
Distance: 57.6 km
By car: 50 mins journey on the A-7 highway
By train/ bus: There is a direct bus route from Malaga main bus station and the journey takes about 1 hour. No direct train connections are available from Malaga.
#5 – Frigiliana
Frequently described as the prettiest Andalusian 'Pueblo Blanco' (white town), it's easy to see why so may find Frigiliana so charming.
Stretching in the hills just above Nerja, Frigiliana is a labyrinth of white-washed cobbled streets with steep climbs, panoramic views of the coastline, and some of the cutest houses you will find.
If you can beat the crowds and arrive here early in the morning, or later in the afternoon to catch the sunset, you're in for a treat. Most of the restaurants are centered around the main square at the bottom of the village, with a few bars and restaurants offering the best views higher up.
If you're coming for a day trip to Nerja, it's well worth reserving more than half a day to spend in Frigiliana.
Read more:
Frigiliana – the Most Beautiful Village in Andalusia
Malaga to Frigiliana
Distance: 58.7 km
By car: 50 mins on the A-7 highway
By train/ bus: you can get a bus to Nerja from the main bus station in Malaga (which takes approx 1 hour) and then take a local bus towards Frigiliana. I took a quick taxi trip from our hotel which will set you back between 10-15 euros depending on where you leave from.
#6 – Antequera
A recent discovery of mine, Antequera is known for its ancient burial mounds and the striking natural reserve of Torcal de Antequera with dramatic limestone rock formations.
If you're on a quest to see the most spectacular natural sights outside of Malaga, combining your trip to Antequera with the visit of Caminito del Rey is a good idea (they are only under 50km apart, a 40 – 60 min car journey).
Antequera is high up on my wishlist of places to see this year and will add some photos in due course.
Malaga to Antequera
Distance: 56 km
By car: 45 mins via A-45 highway heading north of Malaga
By train/ bus: No direct train options, but there is a bus route with ALMA that takes about 1 hour to get to the village.
#7 – Ronda
Ronda will take your breath away – be it simply for the sheer depth of the gorge dividing the town or the history breathing from every building.
The ancient town of Ronda might be a little further off from the bustling city life in Malaga, but it provides a beautiful contrast and a chance to appreciate something truly spectacular.
You can visit one of the oldest bullrings in Spain, take a stroll through the green parks stretching just above the gorge, take a hike in the gorge, visit the Roman Ruins or enjoy spectacular views from Puente Nuevo.
Read more:
Malaga to Ronda
Distance: 56 km
By car: 45 mins via A-45 highway heading north of Malaga
By train/ bus: The train to Ronda takes anywhere between 2 – 3 hours, depending on what time you leave Malaga and how long do you have to wait for your train connection. You will have to take a train to Santa Ana and from there take a train towards Ronda. Book online at renfe or get tickets from the booth at the train station.
There are also direct bus journeys available, which take just under 3 hours, but a word of warning – the bus route goes through the steep curvy mountain roads and it's not for the light hearted – I've been feeling pretty sick after the journey. Getting to Ronda by car is by far the most convenient and faster option.
#8 – Granada
If you've seen a picture of Granada, it probably included some spectacular mountains in the background – Granada is located just at the edge of Sierra Nevada and is a popular base for those venturing to the mountains for hike in summer or skiing in the winter months.
Alhambra is one of the main attractions to add on your list for the trip – this ancient palace counts as one of the most beautiful Islamic buildings in modern Europe. Book your tickets ahead as there is no guarantee they will be available spots to enter once you arrive in the city.
For another unique way to experience the heritage of Granada is to enjoy tea in one of the many teterias (tea houses) scattered mostly around Calle Caldereria Nueva.
Malaga to Granada
Distance: 127 km
By car: 1.5 hrs via A-92
By train/ bus: There is a direct bus connection between Malaga and Granada, and the journey will take you there between 1.30 – 2 hours. Train connection is also available and you have to change trains at the Santa Ana train station – the journey depends on what sort of train connection you catch – it could be as fast as 1.5 hrs or as long as close to 3 hrs.
#9 – Cordoba
Cordóba is home to the UNESCO World Heritage Site of the Mezequita-Cathedral, the annual Festival de los Patios, the ancient Roman bridge, the stunning Alcazar with its sprawling gardens and much more.
Did you know the city has most UNESCO Heritage sites per city in the world?
If you want to plan a day packed with seeing beautiful sites, learn about the history of the city and immerse yourself in the past, Cordóba is the place to be!
If you time your visit right, you might even catch a glimpse of the Festival de los Patios where the most beautiful examples of Andalusian flower-packed courtyards are on display.
Read more:
Visiting the Mezequita Cathedral in Cordoba
Alcazar de Los Reyes Christianos in Cordoba
Malaga to Cordóba
Distance: 158 km
By car: Fastest route via A-45 highway – approximately 1hr 45mins (or take the train which is faster)
By train/ bus: Direct train connection with regular departures from Maria Zambrano train station, the journey takes around 1 hour with frequent departures every day. Bus routes are also available but take considerably longer.
#10 – Marbella
Probably my favorite spot around the Costa del Sol coastline, Marbella is a city of many faces.
It has a charming old town lined with gorgeous Andalusian houses and restaurants, a beautiful coastline with high-end beach clubs, a stretch of the most expensive real estate on Costa del Sol known as the Golden Mile and a flashy luxurious neighborhood of Puerto Banus.
Whatever your preference it, it will feel like one day is not enough to explore it all, but it will certainly give you a real taste of Marbella and keep you longing to see more.
Malaga to Marbella
Distance: 60 km
By car: 45 mins via AP-7 highway
By train/ bus: There is a frequent direct bus connection between Malaga and Marbella from the main bus station, the journey takes between 1hr – 1.5hrs. No train options are available unless you want to take the train to Fuengirola and take a connecting 30-40 mins bus to Marbella (the Renfe train network has Fuengirola as the very last stop).
#11 – Seville
Seville has a lot to offer and if you only have one day, stick to the main attractions.
Even though it's further away from Malaga, the fast train connection will cut your trip much shorter than driving with a car and you won't waste time looking for parking in a busy city.
The main gem of Seville is the Real Alcazar and its also home to world's largest Gothic Cathedral. Probably one of the most frequently photographed squares in Andalusia is also in Seville – the Plaza de España is located in Parque de Maria Luisa.
Malaga to Seville
Distance: 205 km
By car: 2.5 hrs via A-92
By train/ bus: Frequent direct train connection runs from Maria Zambrano train station in Malaga and the journey takes just under 2 hours.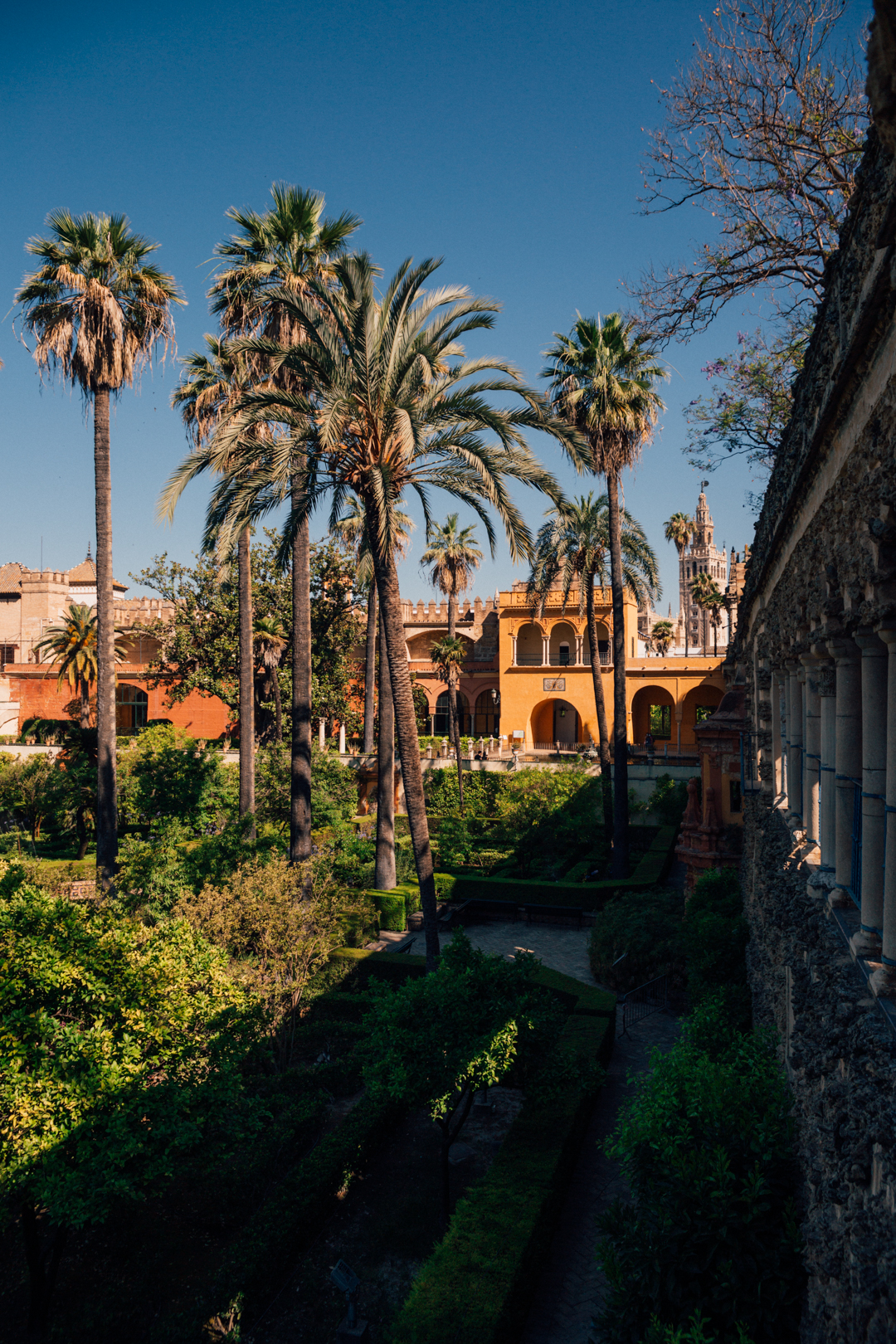 ---
So have you picked your favorites? Let me know if you discovered other day trips that would be worth a mention in the comments below!
I will keep updating this selection as I continue exploring further.
More Places to Explore in Malaga
The Glamorous Gran Hotel Palacio Miramar, Malaga
Dining at Muelle Uno: Cambara Restaurant, Malaga
Castillo de Gibralfaro, Malaga
Hotel Parador de Málaga Gibralfaro
How to Get from Malaga to Marbella
Where is Malaga? All Your Questions Answered
La Conception Botanical Gardens in Malaga
What to do in Malaga? Guide by a Local Expat
Southern Spain Travel Tips
BEST CAR RENTAL
To rent a car, I highly recommend Discover Cars, an award winning price comparison site for car rentals.
BUS & TRAIN TICKETS
To get the cheapest bus or train tickets, take a look at Omio to find the timetables and prices.
LOCAL TOURS
Local travel companies offer many day trip options from almost all the destinations in Southern Spain. You can check them out here.
HOTELS
I have been using booking.com for all my trips in Spain and abroad, and it's the best place to book your hotel.
LUGGAGE STORE
If you would like to leave your luggage behind to explore the city on your last day, you can use Radical Storage service, which lets you book luggage storage in all the destinations in Spain.
LOCAL SIM CARD
If you want to avoid surprising extra charges from your operator, you can use a service like Airalo, where you can buy digital packs for e-sim cards.
Disclaimer: This post contains affiliate links – if you decide to book using one of the links, I will earn a small commission that helps me run this site. This is at no extra cost to you.