Got only one day to spend in Seville?
You're probably wondering if it's enough to see the best of what Seville has to offer!
Fear not.
Even in just a single day, you can get a taste of this historic city without feeling like you've missed out.
Seville is the capital of the autonomous district of Andalusia, and one of the three stops of the famous Andalusia's Golden Triangle (together with Cordoba and Granada).
Moreover, it's the cradle of Flamingo, tinto de verano (summer wine) and has some of the finest palaces in the whole of Spain.
Seville has been celebrates by visitors from all over the world, and for a good reason – it's considered one of the prettiest and most impressive cities in Spain.
I have visited all three cities from the Andalusian Triangle and can only confirm that Seville truly takes the crown.
In just one day, Seville gives you a full taste of what it's all about – historic buildings, traditional culinary experiences, wine tasting, tapas bar hopping and plenty more.
Whether you're planning to visit Seville as a one day trip from other location, or as a quick stop as you're passing by, it's definitely worth a permanent spot on your travel itinerary.
Ready to get planning?
What to See in Seville in One Day
With only one day to spare, you need to focus on the highlights of Seville – these consist of the most known landmarks which are luckily located fairly close to each other.
Below is my suggested itinerary for 1 day in Seville, read further for details on each location.
Royal Alcazar & Gardens (2-3 hrs)
Lunch at Donair Azabache
Early afternoon at Seville Cathedral & Giralda Tower (1 – 1.5 hrs)
Late Afternoon at Plaza de Espana (1 hr)
Early Dinner at El Pinton Restaurant
Morning: Visit the Royal Alcazar & Gardens
The Alcazar of Seville (official name Alcázares Reales de Sevilla) is the most visited monument in the capital of Andalusia.
The palace is the seat of the Spanish Royal Family when they're staying in Seville.
I won't bore you with lengthy history, but here is what you should know:
The compound that makes up the modern-day Alcazar was founded in the early Middle-Ages. It features some of the finest examples of Mudejar style, and combines elements of Roman, Gothic and Renaissance architecture, all in one building. Since 1987 it is part of the UNESCO World Heritage sites, together with Seville Cathedral and the General Archives of Indies.
The Alcazar was used as a shoot location in a number of movies, including the blockbuster of Game of Thrones.
The grounds of the palace are extensive, and the gardens even more – don't rush through and make sure you allocate enough time to soak up the beauty and history of Alcazar.
How much time do you need to see Alcazar? I would recommend putting aside 2-3 hours.
Want to see more? Check the original blog post here
Tickets: Tickets can be purchased online, and start from 14.50 euros for general admission, 1 euro for kids up to 13 years old. Entrance on Monday between 6.00 pm and 6.30 pm is free (you still need to get a ticket assigned for this specific time in advance).
Opening Times: From October 1 to March 31 : Monday to Sunday, from 9:30 a.m. to 5:00 p.m. From April 1 to September 30 : Monday to Sunday, from 9:30 a.m. to 7:00 p.m.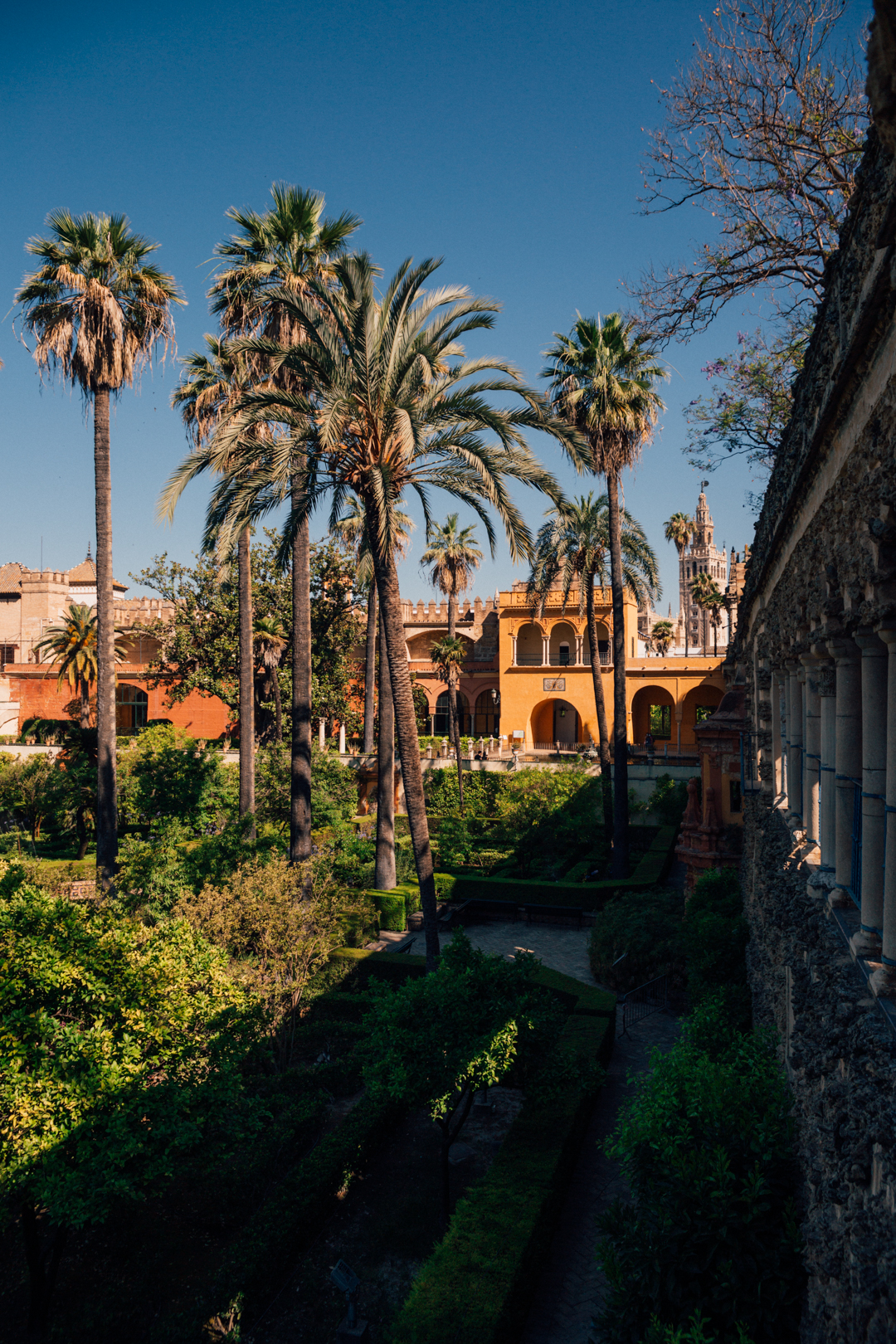 Lunch: Donair Azabache
As you make your way to your next destination – the Cathedral, you may want to stop and grab a light lunch on the way.
Donair Azabache is conveniently located by the Cathedral, right next to the General Archives of Indies.
It doesn't look like much from outside – just a few basic tables with chairs, and locals enjoying their coffee and sandwich before rushing back to work.
The food selection is similar to other restaurants, but the dishes are made with the freshest best quality ingredients. You can tell the difference right away, even the quality of baguettes is outstanding.
It gets busy pretty quickly around lunch time, you may need to wait a while for table to become available.
The service was very friendly and professional, and I would return back in a heartbeat.
Location: C/ Santo Tomás 11, 41004 Sevilla
Menu: available in Spanish but with pictures here
Contact: azabache@donaireazabache.com or tel. 954 22 47 02
Early Afternoon: Seville Cathedral & The Giralda Tower
Seville Cathedral, also known as the Cathedral of St Mary of the See, is a Roman Catholic church which has been part of UNESCO World Heritage sites since 1987.
It is the largest Gothic church in the world, and fourth-largest church in the world.
The cathedral took nearly 500 years to complete and it features a mix of architectural styles which just underline its beauty.
It is known to be a burial place of Christopher Columbus (his son is also buried here) and part of the Cathedral serves as the Archbishop's Palace.
If that's not impressive enough, there is also a 105 m high bell tower with amazing views of Seville!
How much time do you need to see the Cathedral: 1 – 1.5 hours should be enough
Want to see more? Check the original blog post here.
Tickets & Entry: individual tickets for Cathedral & Giralda tower are 10 eur (I believe I paid around 12 eur on spot, so cheaper to buy online). You need to select your entry time to the Giralda tower, to see the Cathedral there is no dedicated time slot. Guided tours & those with access to roof are a bit more expensive. Online ordering system is available here and also works in English language.
Access without Guide: Monday to Saturday, 10.45 am to 17.00 pm, and Sunday 2.30 pm to 18.00 pm.
Guided tours: Monday and Wednesday at 18.00 pm and 20.00 pm, Tuesday & Thursday at 19.30 pm.
Guided roofs of Cathedral tours: dedicated time slots marked on the website here.
Useful tips: no need to worry about climbing the Giralda tower, there are no stairs and the access is flat upward climb. My 6 year old managed just fine. I would not venture there with heels of flip flops, and take water with you to quench your thirst once you reach the top.
Late Afternoon: Plaza de Espana
Plaza de España in Seville has to be one of the most photographed and famous squares in the whole of Spain.
That's not only because of the blockbuster movies shot here (Lawrence of Arabia, Star Wars), the impressive size of the plaza, and artistic execution but also due to the fame it gained on Instagram.
Plaza de España is the work of a Sevillian architect Aníbal González, who designed the space for the 1929 Ibero-American Expo.
The plaza is now adjacent to Maria Luisa Park and covers a total area of 50,000 square meters. It counts itself among the most impressive plazas in Spain.
If that wasn't enough, there's also a 515-meter long Venice-style canal that you can explore by boat. No wonder they call it the Venice of Spain!
How much time should you spend here? An hour should be enough, if you want to take a boat ride, allocate 1.5 hrs in total.
Want to see more? Check my original blog post here.
Opening times: The plaza is open from 8 am to 10 pm every day.
Boat Rides: Tickets are available at Venta Official ticket booth, a small booth close to the parked boats. The tickets cost €6 for a 35-minute ride, if you go over it, the price goes up to €10. A small deposit of €4 is also required so remember to return to the booth after your ride.
Dinner: El Pinton Restaurant
If you have some spare time to stay for an early dinner, you might like this place!
El Pinton represents a more innovative approach to Spanish cuisine and allows you to explore new flavours in nice surroundings.
It is set in an old courtyard, with natural light coming from the ceiling.
Most importantly, the menu is surprisingly original, with lots of new flavour combinations. There was plenty to choose from (even for non-meat eaters like me). The food was excellent and presented beautifully.
The restaurant has some seating out on the street with bigger tables inside. If you're planning to come at weekend, booking table is a good idea as it's quite popular.
Location: Francos, 42 · Sevilla
Menu: available here (in Spanish)
Contact: tel.+34 955 07 51 53, hello@elpinton.com
Most Popular Experiences in Seville
Here are some highlights you can experience while staying in Seville.
Want to See More in Seville?
Palacio de las Dueñas, Seville
Seville Cathedral Tickets: Top Tips To Save Money & Time
The Gem of Andalusian Architecture: Casa de Pilatos, Seville
The Monument of Controversy: Las Setas de Sevilla
Getting from Seville to Cadiz: Your Complete Transport Guide
Southern Spain Travel Tips
BEST CAR RENTAL
To rent a car, I highly recommend Discover Cars, an award winning price comparison site for car rentals.
BUS & TRAIN TICKETS
To get the cheapest bus or train tickets, take a look at Omio to find the timetables and prices.
LOCAL TOURS
Local travel companies offer many day trip options from almost all the destinations in Southern Spain. You can check them out here.
HOTELS
I have been using booking.com for all my trips in Spain and abroad, and it's the best place to book your hotel.
LUGGAGE STORE
If you would like to leave your luggage behind to explore the city on your last day, you can use Radical Storage service, which lets you book luggage storage in all the destinations in Spain.
LOCAL SIM CARD
If you want to avoid surprising extra charges from your operator, you can use a service like Airalo, where you can buy digital packs for e-sim cards.
Disclaimer: This post contains affiliate links – if you decide to book using one of the links, I will earn a small commission that helps me run this site. This is at no extra cost to you.