If you're planning a trip to Southern Spain, you're probably wondering what cities are worth the drive and spending a few days exploring.
If one of those cities is Seville, you've come to the right place.
I'm a local ex-pat in Southern Spain and spent an extended period of time in Seville, to be able to tell you all about it (good sides and also the things nobody mentions)!
Read on to discover everything you need to know about Seville!
Is Seville Worth Visiting?
Short answer – DEFINITELY.
For me, it is by far the prettiest city in Southern Spain and also one that has the most to offer.
Seville will charm you with its idyllic romantic old town, impress you with UNESCO World Heritage sites (a lot of them used as movie locations) and utterly capture your heart with its culinary delights. You will love it no matter if you have only one or five days to spend here.
The opportunities for exploring Seville are limitless, and no matter what your interests are, you will find Seville fascinating.
It doesn't boast the coastline that other Andalusian cities can brag about, but it also has that old village charm that you simply won't see in other big cities.
Seville is surprisingly green and lush – it has a lot of well-maintained parks and green areas to keep the shelter from the summer heat. You can also enjoy a boat ride on the river Guadalquivir, the only navigable river in Spain, which played a big role in its historic roots.
You will also love the atmosphere – local families gather at late hours in the evenings to chat over a glass of tinto de verano (summer wine) and tapas, with kids running about and waiters bouncing from table to table with full plates.
There is an understandable presence of tourists in the summer, but even at the height of the tourist season, you can find yourself exploring Seville in an authentic way without battling the crowds.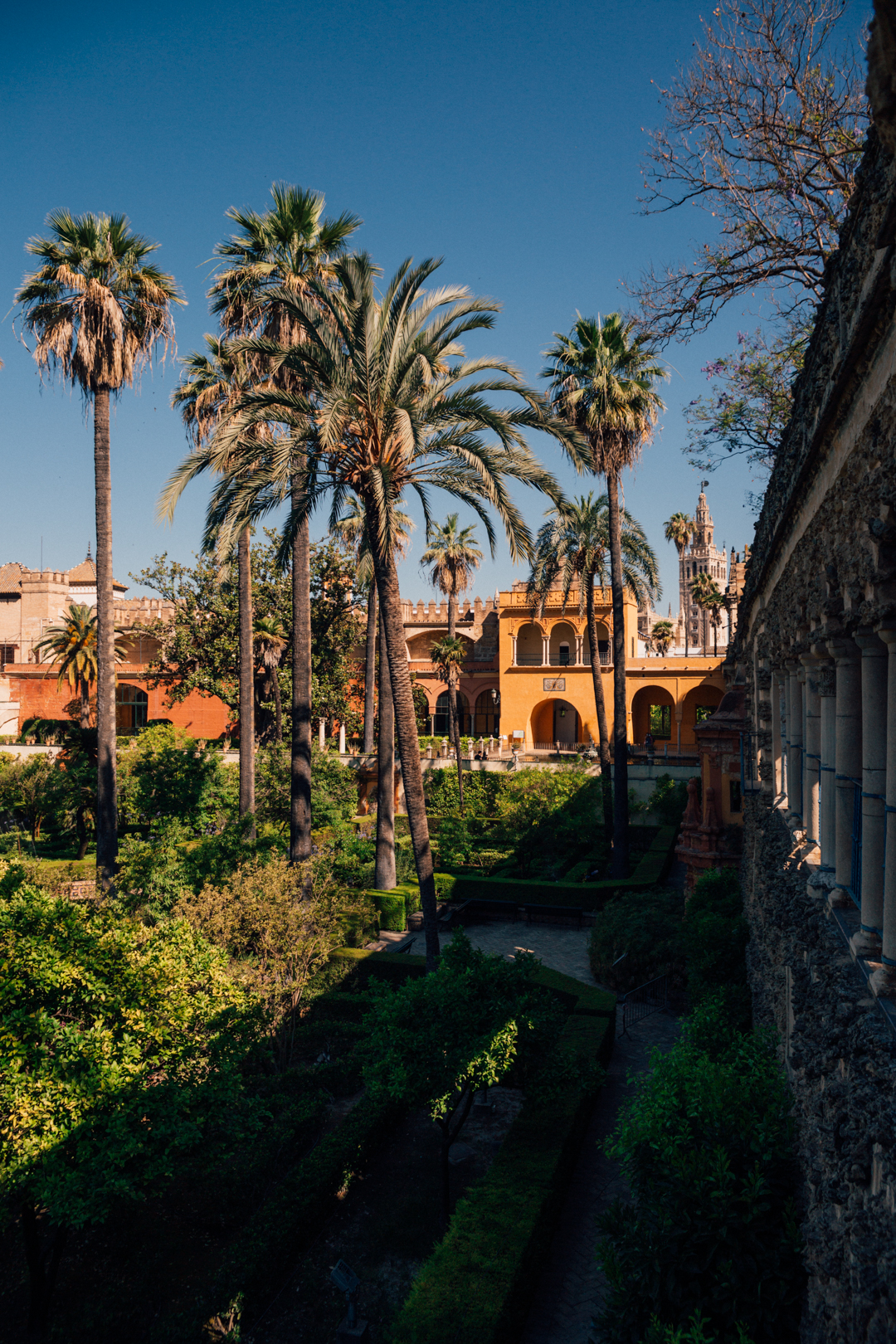 Top Places to Visit in Seville
If you're thinking about what to do in Seville if you decide to visit, you're in for a treat!
Seville has probably the most historic monuments and attractions out of all the Andalusian cities, but still maintains its characteristic charm.
Here is a shortlist of all the beautiful places you can see in Seville.
At the bottom of this article, I shared more detailed posts on some of these locations!
Most Popular Experiences in Seville
Here are some highlights you can experience while staying in Seville.
How Many Days Should I Spend in Seville?
If you could choose how many days you can spend in Seville, I would recommend 3 – 5 days to enjoy it at a good pace.
In three days you will manage the highlights without rushing from one place to another. Five days will give you a chance to properly soak in all that Seville has to offer and venture out of the central area for a more authentic experience of the city.
If you only have one day to visit the city, perhaps as a one-day stopover on your way to someplace else, you can still squeeze a lot even into a single day.
Check out my one day guide in here.
When Should I Visit Seville?
'Shoulder seasons' are probably the best time to visit Seville.
It's neither too hot nor cold, and there are fewer crowds clogging up the city. The weather in Seville is very different to what you experience on the coast, it's usually much hotter.
For example on my visit in May, Seville was roasting at 35C for a week, while the coastline was at pleasant 28C. And that was only the middle of May, considered a generally mild weather month.
The best time to visit Seville would be May to March, or October to December when the city experiences mild temperatures in general. But you can of course find exceptions, like the week I visited when the temperatures were much higher than usual.
In the winter months, the weather can be a lot moodier and it's much harder to plan your activities.
It's quite the opposite in the summer months when tourists arrive in Seville, both from abroad but also from local Spanish people visiting. It gets very hot and crowded, resulting in long lines for the Alcazar and other popular places.
If you only can visit in the summer, you should plan to arrive at the attractions early in the morning to avoid the heat and crowds. Booking tickets to Alcazar and the Cathedral are recommended to do in advance.
What is so Special About Seville?
First of all, Seville is the capital of the autonomous district of Andalusia and the biggest city of Southern Spain.
Seville is known as the cradle of flamengo and for its stunning architectural gems. It's a city where siestas and tapas reign supreme.
Seville has a fascinating history, with some historians indicating that it was built by Hercules himself! The cultural and architectural heritage of Spain is truly showcased everywhere you go in Seville – from stunning palatial houses, Roman ruins, Royal Palaces to breath-taking cathedrals and churches.
If you want to experience authentic Spain, Seville is one of the best places to be.
Skip the long lines to one of Seville's most popular monuments with a fast-track entry ticket to the impressive cathedral and bell tower of La Giralda.
Book Tickets Now >>
Is Seville Safe to Visit?
Yes, in general, Seville is a safe place to visit.
Just like with other popular tourist destinations, you should watch out for typical things like pickpockets in crowded places.
If you're sitting on a restaurant terrace on the street, don't let your handbag hang on the side of the chair – it's very easy to get it snatched by someone walking by (something a waiter reminded me of when I made that mistake myself).
What to Watch out for When Visiting Seville?
Tickets to Attractions
As I mentioned earlier, Seville is home to the Royal Alcazar, one of the most visited monuments in Southern Spain. If you're visiting in the busy season, do check the tickets online well in advance, to make sure you get in and you won't miss out on a spot.
In the summer, prepare to wait in line for most places that you visit.
Summer Heat
It does get VERY hot in Seville, and that's even at the beginning of the summer.
If you want to visit in the hot months, the best thing to do is to plan your activities for early in the morning, and spend the early/late afternoon hours somewhere inside to hide from the heat (preferably a siesta with a snooze). Even in the evening, the temperatures are still high so you can enjoy a pleasant evening till the late morning hours.
Street Performers
As you are enjoying a peaceful dinner on a terrace and listening to the sound of birds in the trees, a guy with a guitar walks in front of the restaurant and starts banging some loud tunes, whether you like it or not.
Admittedly some are better at their craft than others, but in any case, they will expect you to pay something for the pleasure.
If it happens just once, it's actually quite pleasant, but if you spend more time in Seville and this repeats in every restaurant you visit, it can really ruin the evening (at least for me!).
In Conclusion
Seville is one of the places that I really want to return to as soon as possible – it left such a huge impression and made me very excited about exploring Spain. Seville is well connected with the rest of the country with good infrastructure, so it's the perfect base for your exploration of Southern Spain – check some of the best day trip options in the article list below.
If there is one place to see in Southern Spain, Seville definitely gets my vote!
Recommended Tours and Experiences in Seville:
Read More About Seville
Best Day Trips from Seville (Complete Guide)
Visiting the Royal Alcazar of Seville
Getting from Seville to Cadiz: Your Complete Transport Guide
Palacio de las Dueñas, Seville
The Venice of Spain: Plaza de España, Seville
Best Restaurants in Seville (Spain)
The Gem of Andalusian Architecture: Casa de Pilatos, Seville
The Monument of Controversy: Las Setas de Sevilla
How to Get from Seville to Cadiz: The Complete Transport Guide
Seville Cathedral & Giralda Tower
Seville Cathedral Tickets: Top Tips To Save Money & Time
Southern Spain Travel Tips
BEST CAR RENTAL
To rent a car, I highly recommend Discover Cars, an award winning price comparison site for car rentals.
BUS & TRAIN TICKETS
To get the cheapest bus or train tickets, take a look at Omio to find the timetables and prices.
LOCAL TOURS
Local travel companies offer many day trip options from almost all the destinations in Southern Spain. You can check them out here.
HOTELS
I have been using booking.com for all my trips in Spain and abroad, and it's the best place to book your hotel.
LUGGAGE STORE
If you would like to leave your luggage behind to explore the city on your last day, you can use Radical Storage service, which lets you book luggage storage in all the destinations in Spain.
LOCAL SIM CARD
If you want to avoid surprising extra charges from your operator, you can use a service like Airalo, where you can buy digital packs for e-sim cards.
Disclaimer: This post contains affiliate links – if you decide to book using one of the links, I will earn a small commission that helps me run this site. This is at no extra cost to you.