The culinary delights of Granada have not made a great first impression when I arrived.
A rainy day with freezing cold mornings is something I did not expect mid May, along with limited options for authentic restaurants close to where I stayed.
My luck turned the next day when I found this restaurant, which truly lived up to the full potential Granada has to offer.
Longing for a place with view, a bit of greenery and delicious food, Restaurant Mirador de Morayama ticked all the boxes.
After what seemed like an endless climb up the narrow winding road in the Albaicin neigbourhood, we finally arrived at the restaurant to find it closed for further 30 mins. A few strolls later, we were back to pick the best spot with a view. There were only 2 tables of hungry visitors in addition to us, and before we could order I was up and about with the camera, enjoying the beautiful surroundings.
The restaurant is set in a traditional Carmen housing, sheltered from the views with a high wall and spread out in an orchard with terraced gardens. Shaded by fruit trees and covered in lush greenery, with just enough space between the tree branches to spot the outline of the Alhambra.
The place felt absolutely tranquil, with just the buzz of the bees and trickling of the water fountain behind you to keep you company.
The menu was short, written down on a chalkboard, and even a non-meat eater like me could find plenty to get excited about. Food was simple, but very fresh, executed to perfection and presented beautifully.
If you are visiting Granada, this place is a must visit!
Restaurante Mirador de Morayma
Reservations: recommended in high season and weekends – 958 228 290 – 958 224 812 – 600 433 218 (add +34 if you're calling from international number)
Location: c/ Pianista Garcia Carillo 2, Granada (the restaurant is high up on the hill, so you will have to find parking somewhere outside of Albaicin to get here. Alternatively you can take a taxi that can drop you off at the entrance)
Events: occasionally there are live music performances in the restaurant, check their website or facebook page for latest updates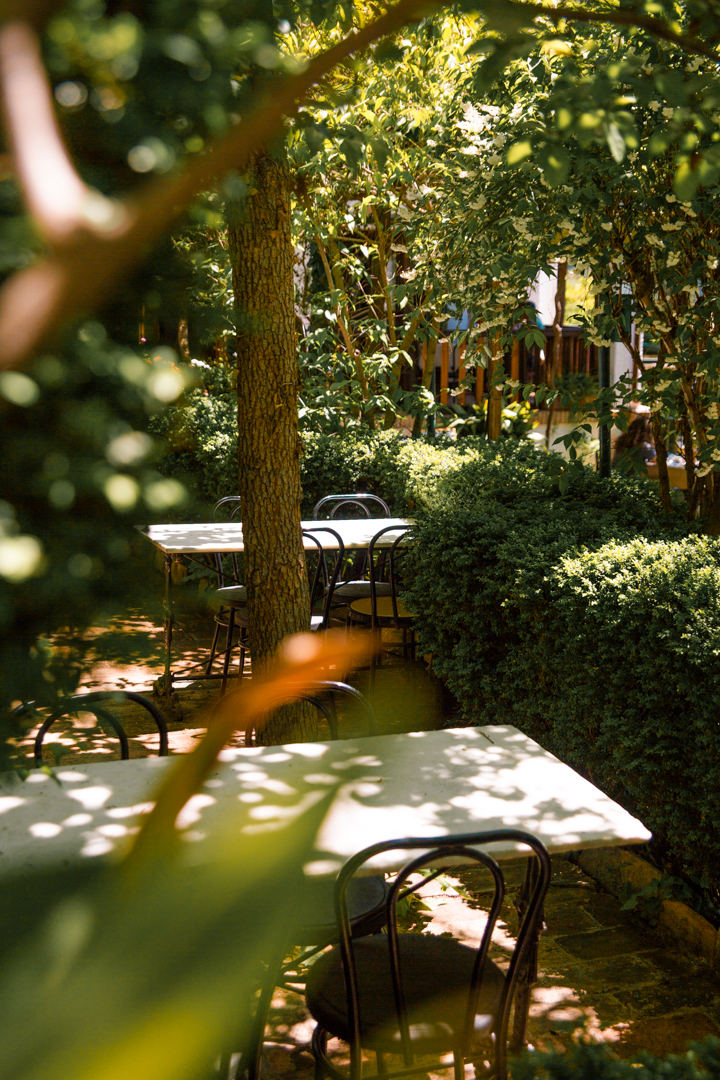 Explore More in Granada
Visiting Alhambra in Granada: The Complete Guide
Generalife Palace & Gardens, Granada
The Charming Albaicin Neighbourhood of Granada
The Alcazaba of Alhambra, Granada
13 Beautiful Photography Locations in Granada: Tips from a Local Expat
My Stay at Hotel Casa 1800, Granada
Carmen de los Martires, Granada
Granada Monuments Tickets & Tours
Here are a few guided trip options for visiting the main sights in Alhambra. To check availability and prices please click on the link below.
Southern Spain Travel Tips
BEST CAR RENTAL
To rent a car, I highly recommend Discover Cars, an award winning price comparison site for car rentals.
BUS & TRAIN TICKETS
To get the cheapest bus or train tickets, take a look at Omio to find the timetables and prices.
LOCAL TOURS
Local travel companies offer many day trip options from almost all the destinations in Southern Spain. You can check them out here.
HOTELS
I have been using booking.com for all my trips in Spain and abroad, and it's the best place to book your hotel.
LUGGAGE STORE
If you would like to leave your luggage behind to explore the city on your last day, you can use Radical Storage service, which lets you book luggage storage in all the destinations in Spain.
LOCAL SIM CARD
If you want to avoid surprising extra charges from your operator, you can use a service like Airalo, where you can buy digital packs for e-sim cards.
Disclaimer: This post contains affiliate links – if you decide to book using one of the links, I will earn a small commission that helps me run this site. This is at no extra cost to you.