Are you looking for the best Cadiz bike tours?
In that case, I have exactly what you're looking for!
Not just tips for the best bike tours, but also personal insights from my trip to Cadiz and other local tips (as I live permanently in Southern Spain).
Exploring Cadiz on Costa de la Luz by bike is the best way to get the most out of your stay in this beautiful historic city, in a relatively short period of time.
Especially if you're visiting in the summer months, the bike offers a great alternative to walking tours and allows you to cover so much more than just the highlights of the eldest city in Europe on an easy route.
If you're ready to pick your favourite tour, here are three options that tick all your boxes!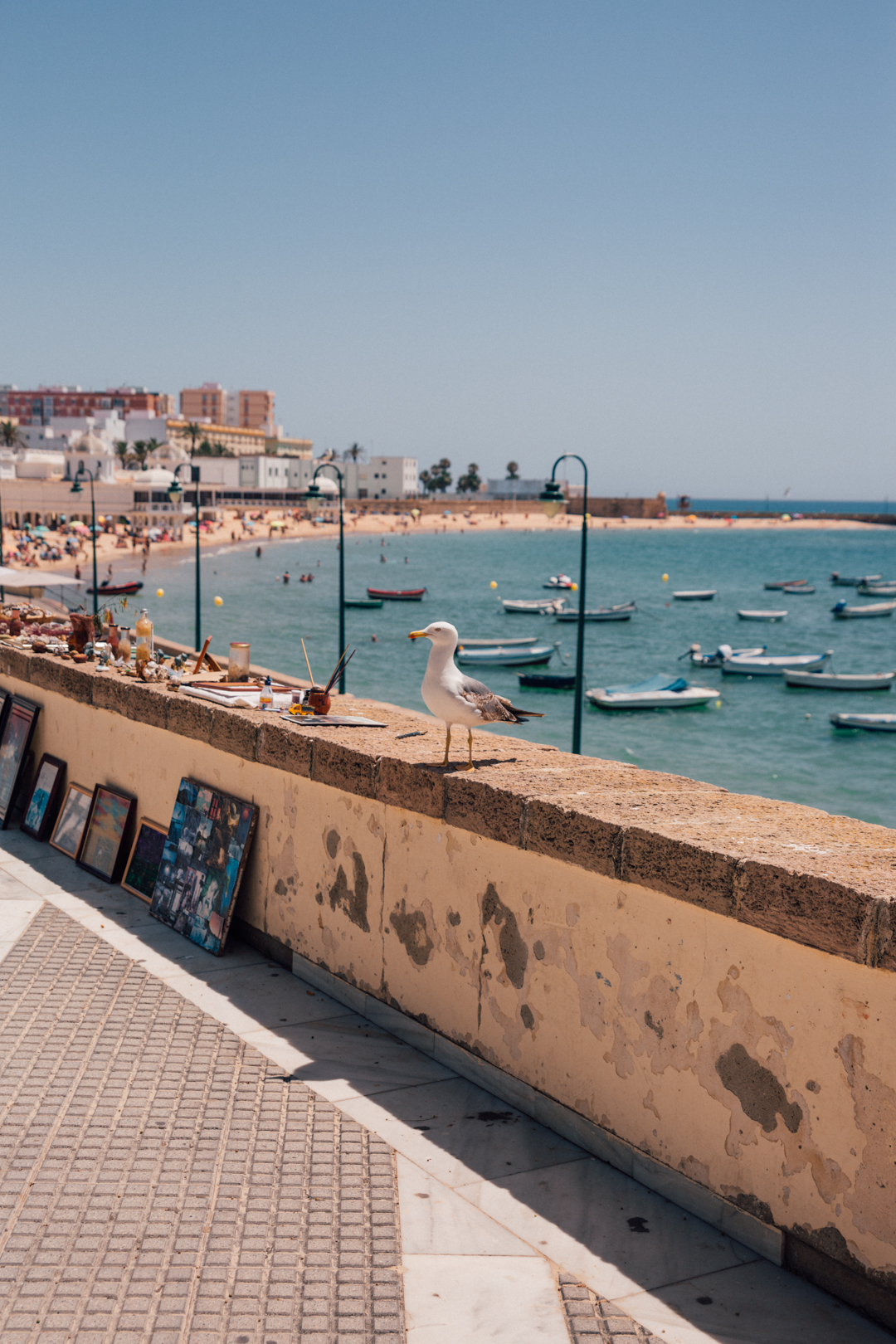 Best Cadiz Bike Tours for 2023
Cadiz is a very old city that doesn't offer many dedicated cycle paths, and many parts of the old town are off-limits to bikes.
Having a guided tour with a local expert will help you to navigate the local traffic safely, while exploring the most interesting sights and enjoying the best views of Cádiz. 
Bike tours are the perfect activity for all skill levels and ages. Cadiz is also pretty flat, so you won't even break a sweat exploring the city.
The tours featured here cover all the highlights of Cadiz – La Caleta Beach, Parque Genovés, Campo del Sur, Cadiz Cathedral, San Sebastian Castle and more, all while you learn interesting facts about the city's history.
Even if you're only coming for a day trip, these guided bike tours will allow you enough time to explore on your own for the rest of the day. 
Strap on your helmets and get ready to plan a relaxing guided trip in Cadiz!
CADIZ BIKE TOURS
Rating: 4.7 / 5
Availability: 7 days per week
Start your bike tour at the Square Plaza San Juan de Dios by the main city hall where a professional guide will give you a quick overview of your itinerary. 
Your tour will cover all the main sights and much more: Plaza España, Alameda Apodaca (North Coast), Parque Genoves, La Caleta (Castle Santa Catalina), Campo del Sur (South coast) and la Playa Santa Maria/Playa Victoria.
Stop along the way to get amazing photos and learn interesting facts about each place. 
A wonderful trip that will give you first-hand expertise on this historic town. 
FREE cancellation up to 24 hours
Book now & pay later
English & Spanish language tour guide
CADIZ BIKE TOURS
Rating: 4.6 / 5
Availability: 7 days per week
Learn about the history of Cádiz from a knowledgeable tour guide with this bike tour that covers the essential sights.
You will ride through the historic city center and explore the medieval gates with a multilingual guide that will answer all your questions.
FREE cancellation up to 24 hours
Book now & pay later
English & Spanish language tour guide
CADIZ BIKE TOURS
Rating: 4.8 / 5
Availability: 7 days per week
In addition to the main sights of Cadiz already mentioned in the previous two tours, this longer bike tour will also take you to the newer districts of Cadiz, allowing you to see much more than just the regular sights. 
​Discover hidden corners and learn about fascinating stories from a knowledgeable local guide (English-speaking). You will also get local tips for other locations worth your time while staying in Cadiz. The meeting point is at 
San Juan de Dios Square, next to the town hall. 
FREE cancellation up to 24 hours
Book now & pay later
English, Spanish & Italian language tour guide
CADIZ BIKE TOURS
Rating: 4.8 / 5
Availability: 7 days per week
​Fancy enjoying some stunning views without breaking a sweat? In that case, a segway tour is the perfect option!
​Drive past the main monuments and stunning parks, and enjoy a ride on the main beaches of Cadiz, full of amazing photo opportunities.
This is a shorter express tour, which is a great alternative, especially for the hot summer months.
FREE cancellation up to 24 hours
Book now & pay later
English & Spanish language tour guide
Private group
Practical Tips for Cadiz Bike Tours
There are three Cadiz bike tours available, and you're probably wondering which one to pick for your trip!
The tours featured here are available seven days a week (main season) and offer a very similar route, with small variations in each. They are also roughly in the same price range, so the best way to choose is to check the starting time for the activity (mornings are much better) and also whether you like the route outlined in the itinerary and whether it covers everything you want to see.
Some of the tours offer multilingual guides, but English will always be provided as a standard.
Not all the tours have very detailed information on the page, and you will get any additional information via confirmation email once you make your booking.
Don't worry, though – if there are any issues or you change your mind, you can cancel the tour for free up to 24 hours before the trip, which gives you plenty of flexibility. 
Common restrictions for the tours include height & weight restrictions, kids might also be excluded from taking part in the tour due to the availability of bikes.
The old town of Cadiz has many pedestrian streets where bikes are not allowed, so the tour guide will navigate around those so you can still see the main sights.
Liability insurance is included in all the trips.
Questions About Cadiz Bike Tours
Here are some of the most frequent questions about the bike tours. If you didn't find your answer here, please leave a comment under this article.
Can you cycle in Cadiz?
​Yes, you can cycle in Cadiz, but the cycling paths are rather limited and there are certain sections of the old town where you can't get by bike. The best way to explore Cadiz by bike is by booking a dedicated tour. I have added a selection of these in this article.
What are the best cycling tours in Cadiz?
The best and most popular cycling tours in Cadiz are 2.5 hour tours that cover all the highlights of the city with an expert local guide.
Explore More in Cadiz
Cadiz, Spain: Stunning Photography Locations You Can't Miss
7 Best Cadiz Boat Trips [Expert Tips]
Cadiz to Seville Train: Your Detailed Transport Guide
How to Get from Seville to Cadiz: The Complete Transport Guide
How to See Cadiz in One Day: The Complete Itinerary
Southern Spain Travel Planning Guide
Is it safe to drive in Spain?
YES! The roads in Southern Spain are generally in very good condition, with modern highways connecting the biggest cities. To rent a car, I highly recommend Discover Cars, which will get you the best deals on your car rental for your trip.
WHAT IF I DON'T WANT TO DRIVE?
PUBLIC TRANSPORT — Southern Spain has a well-established and modern network of trains and buses. To get the cheapest bus or train tickets, take a look at Omio to find the timetables and prices.
DAY TRIPS — If you don't like the hassle of using public transport, local travel companies offer many day trip options from almost all the destinations in Southern Spain. You can check them out here.
WHERE SHOULD I BOOK MY ACCOMMODATION?
BOOKING.COM — I have been using booking.com for all my trips in Spain and abroad, and have never had any negative experiences. Their reviews are very accurate and you get the best deals even on apartments, not just hotels.
ARE THERE LUGGAGE STORE OPTIONS IN THE CITIES?
YES — If you would like to leave your luggage behind to explore the city on your last day, before heading to the airport, you can use Radical Storage service, which lets you book luggage storage options in almost all the destinations in Southern Spain.
DO I NEED TO BUY A LOCAL SIM CARD FOR THIS TRIP?
YES – You can, of course, use your own card if you have roaming data available. If you want to avoid surprising extra charges from your operator, you can use a service like Airalo, where you can buy digital packs for e-sim cards, avoiding the hassle of sourcing local physical sim cards and extra roaming charges anywhere you go.
Disclaimer: This post contains affiliate links – if you decide to book using one of the links, I will earn a small commission that helps me run this site. This is at no extra cost to you.