Finding a good restaurant in Granada has proven a lot more tricky than I initially thought.
Not that there isn't anything to choose from, but if you're spending your time around the tourist sights, the food offering seems pretty much the same, and the quality is fairly questionable.
In my 4 trips to Granada, which total about 20 days, I managed to find some local gems, that in some cases combine two of my favourite things: great food and amazing views!
Read on to discover them (including detailed photos!).
Free Tapas in Granada
The great and unique thing about Granada is the fact that every drink comes with a side of small tapas, so you get a chance to taste a bit of what the restaurant is all about before you decide whether you'll have lunch or dinner there.
Some of these are a size of a single bite (like a baguette with Jamon), while others look like a proper starter meal that you should be paying for.
If you keep exploring the city and stopping for a drink along the way, you'll find yourself pretty stuffed by the time it comes to dinner.
My Local Picks
Granada was also exceptional in the sense that a few places that looked like complete tourist traps ended up having the best of both worlds – amazing location with views AND really good quality food.
My selection here is rather short – these are the only restaurants I would return to when visiting Granada. I'm sure there are a lot more locals would recommend, but I don't ever list a place that I have not visited in person.
One restaurant niche we have not explored was fine-dining places, which I've read are really good in here too. There are lots more places on my list that I wanted to visit and try out, but the list below contains as much as I could squeeze into a 5-day trip.
This article will be updated as soon as I return to Granada in winter, to extend the selection of great places to eat.
Hand-Picked Best Restaurants in Granada
1. Restaurante Mirador de Morayma
If you're looking for a place with a view, in lush surroundings and delicious food, Restaurant Mirador de Morayama ticks all the boxes.
The restaurant is set in a traditional Carmen housing, sheltered from the views with a high wall and spread out in an orchard with terraced gardens. Shaded by fruit trees and covered in lush greenery, with just enough space between the tree branches to spot the outline of the Alhambra.
The place felt absolutely tranquil, with just the buzz of the bees and the trickling of the water fountain behind you to keep you company.
The menu was short, written down on a chalkboard, and even a non-meat eater like me could find plenty to get excited about. Food was simple, but very fresh, executed to perfection and presented beautifully.
Reservations: recommended in high season and weekends – 958 228 290 – 958 224 812 – 600 433 218 (add +34 if you're calling from an international number)
Events: occasionally there are live music performances in the restaurant, check their website or Facebook page for the latest updates
Location: c/ Pianista Garcia Carillo 2, Granada (the restaurant is high up on the hill, so you will have to find parking somewhere outside of Albaicin to get here. Alternatively you can take a taxi that can drop you off at the entrance)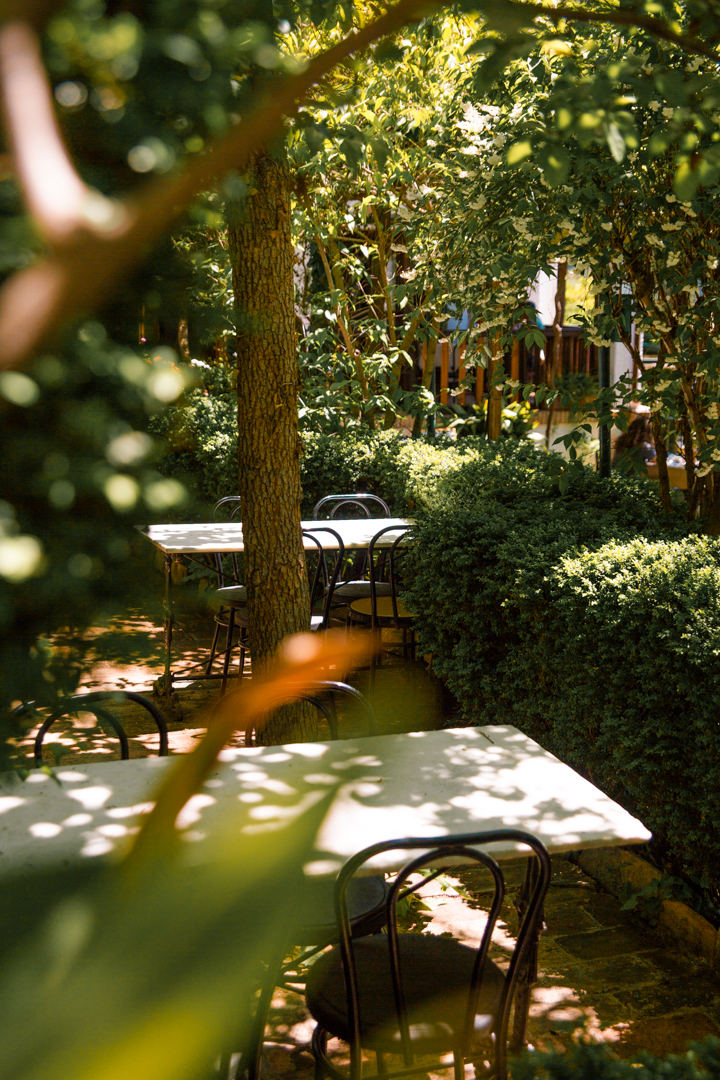 2. Restaurante Carmen St Miguel
A short walk from Carmen de los Martires, stretching on the slopes of the Alhambra complex is a beautiful restaurant, where the biggest treasure hides behind its coloured walls.
Restaurante Carmen St Miguel combines traditional Mediterranean cuisine with an innovative approach using the freshest locally sourced ingredients. And if that's not enough, wait till you see the views!
The restaurant is beautifully layout out, and from almost all the tables on the terrace, you can enjoy the beautiful views, with snowy peaks of Sierra Nevada still visible in the distance. Crisp white table cloths, innovative menu and extensive wine will make you feel right at home.
We originally stopped by only for a drink, but the menu was tempting enough that we decide to share a Caesar salad – which as you can see from the photos below, was a feast for the eyes too. Even with such a simple dish as a Caesar salad, the chef managed to pull off something innovative and absolutely delicious.
Menu: available online here
Opening hours: Monday – Saturday from 12.30 to 16.00, and 19.30 to 23.00. From September to May, the restaurant is also open on Sundays 12.30 – 16.00 (closed in June – August on Sundays)
Location:
3. La Picolla Carmela
It must be considered a disgrace to visit such a monumental place like Granada and end up in an Italian restaurant as your first stop. But, when it's a restaurant you've returned to for the second time, I think it deserves a spot in here.
La Picolla Carmella was at the edge of Plaza Nueva, almost opposite the pickup stop for buses towards Alhambra. The menu is full of Italian classics and they certainly don't disappoint. We were served a large portion of pasta in the most delicious cheesy sauce as tapas, as soon as we sat down.
If you're in the mood for pasta or pizza, the salads are equally delicious and taste super fresh. The staff is very attentive and friendly, and the inside of the restaurant is very cosy and welcoming. They have plenty of seating outside by the main road if you don't mind the traffic noises.
Menu: check on their website
Reservations: available also online on their website (scroll all the way to the bottom)
Location:
4. Restaurante El Huerto de Juan Ranas
It's not often you come across a charming restaurant, in a spectacular spot, and one that's not a tourist trap. Luckily, this is one of the exceptions to the rule, at least for me!
El Huerto de Juan Ranas sits just below the most popular photo spot in Granada – Mirador St Nicolas – but unlike the viewpoint, you won't have to use your elbows to get into the prime spot to take a single photo.
The restaurant stretches over a number of terraces, each offering spectacular views of the Alhambra and just behind it the breathtaking and snow-covered Sierra Nevada mountain range.
The restaurant is very popular – as you would expect – and tables are changing fast. People come here mostly for a few drinks and a quick photo of their travel collection, only a few stay for a meal with the whole family. Without much of a thought, we ordered some food for a very early dinner, and to my surprise the food was spectacular.
Yes, it is more expensive than other places in Granada, but views and location usually come with a price tag. The service in the restaurant was very professional and everything seemed to have been running like clockwork – it's very obvious they are used to catering for a lot of people. When I asked if we could change tables to a better location, the waiter didn't hesitate for a second to move us around.
The fact that the restaurant was pretty much packed did not take much away from the experience as there was plenty of space between the tables, and each could enjoy the views.
Menu: not available online or on their Facebook page, unfortunately. Check google reviews and you might see photos of the menu there.
Reservations: tel. +34 958 286 925, email – [email protected]
Location: just under the Mirador of St Nicholas
Explore More in Granada
Visiting Alhambra in Granada: The Complete Guide
Generalife Palace & Gardens, Granada
The Charming Albaicin Neighbourhood of Granada
The Alcazaba of Alhambra, Granada
13 Beautiful Photography Locations in Granada: Tips from a Local Expat
My Stay at Hotel Casa 1800, Granada
Carmen de los Martires, Granada
Recommended Tours and Experiences:
Granada Monuments Tickets & Tours
Here are a few guided trip options for visiting the main sights in Alhambra. To check availability and prices please click on the link below.
Southern Spain Travel Tips
BEST CAR RENTAL
To rent a car, I highly recommend Discover Cars, an award winning price comparison site for car rentals.
BUS & TRAIN TICKETS
To get the cheapest bus or train tickets, take a look at Omio to find the timetables and prices.
LOCAL TOURS
Local travel companies offer many day trip options from almost all the destinations in Southern Spain. You can check them out here.
HOTELS
I have been using booking.com for all my trips in Spain and abroad, and it's the best place to book your hotel.
LUGGAGE STORE
If you would like to leave your luggage behind to explore the city on your last day, you can use Radical Storage service, which lets you book luggage storage in all the destinations in Spain.
LOCAL SIM CARD
If you want to avoid surprising extra charges from your operator, you can use a service like Airalo, where you can buy digital packs for e-sim cards.
Disclaimer: This post contains affiliate links – if you decide to book using one of the links, I will earn a small commission that helps me run this site. This is at no extra cost to you.