Are you planning your Malaga to Seville day trip? In that case, you're at the right place!
I have visited Seville on two extended trips and spent over 10 days exploring what the city offers. As I live next to Malaga, I can share many practical local transport insights you won't find anywhere else.
Are you ready to explore your options?
If you prefer to book your trip immediately, I have included a link to the most popular day trip option from a local travel company below. Just click the link to see the availability and book online.
MOST POPULAR DAY TRIP OPTION: Full Day Tour of Seville from Malaga
Malaga to Seville Day Trip: Travel Options for 2023
You can plan this day trip in terms of transport in four ways, and I will dive deeper into each of these below.
Day trip to Seville with a local travel company: A hassle-free way to see Seville without worrying about transport or planning your own program.
Day trip with a rental car: A convenient option for those who are already planning to rent a car for their stay in Malaga. Check below for the journey details.
Day trip with public transport: If you're on a tight budget but would still love to see Seville, using public transport is fairly affordable and really convenient from Malaga. Check below to see the details for train connections.
Day trip with a taxi: If you're looking for private transport and flexibility to plan your program in Seville, this is the easiest option, although it's quite expensive.
Option 1: Malaga to Seville Day Trip with Local Travel Company
The most popular option for this day trip is using a local travel company, which has lots of advantages:
FREE cancellation up to 24 hours before the trip for a full refund gives you lots of flexibility if your plans change.
Reserve now and pay later option – no need to pay the whole amount immediately.
Local English-speaking guide
Pick up and drop off location in central Malaga
Check other traveller reviews before you book this trip
Travel in a comfortable modern air-conditioned bus
This trip runs 1x per week, so book your spot in advance so you don't miss out.
Free time to explore Seville on your own
Book online in just a few steps via the link below
BOOK ONLINE NOW: Full Day Tour of Seville from Malaga
How To Book Tris Day Trip
Navigate to the page linked above, and then follow the instructions:
From the page, select the number of people attending, your preferred day trip and your language preference.
You will be navigated to a payment page.
Your ID will be required to book the trip.
You will receive an email confirmation showing you the starting time, pick-up location and all the details you need to know for this trip.
Is This Day Tour Already Sold Out?
The trip to Seville is very popular, so in case you already checked the recommended tour and it's not available on the dates you would like to travel, here are a few options you could consider instead: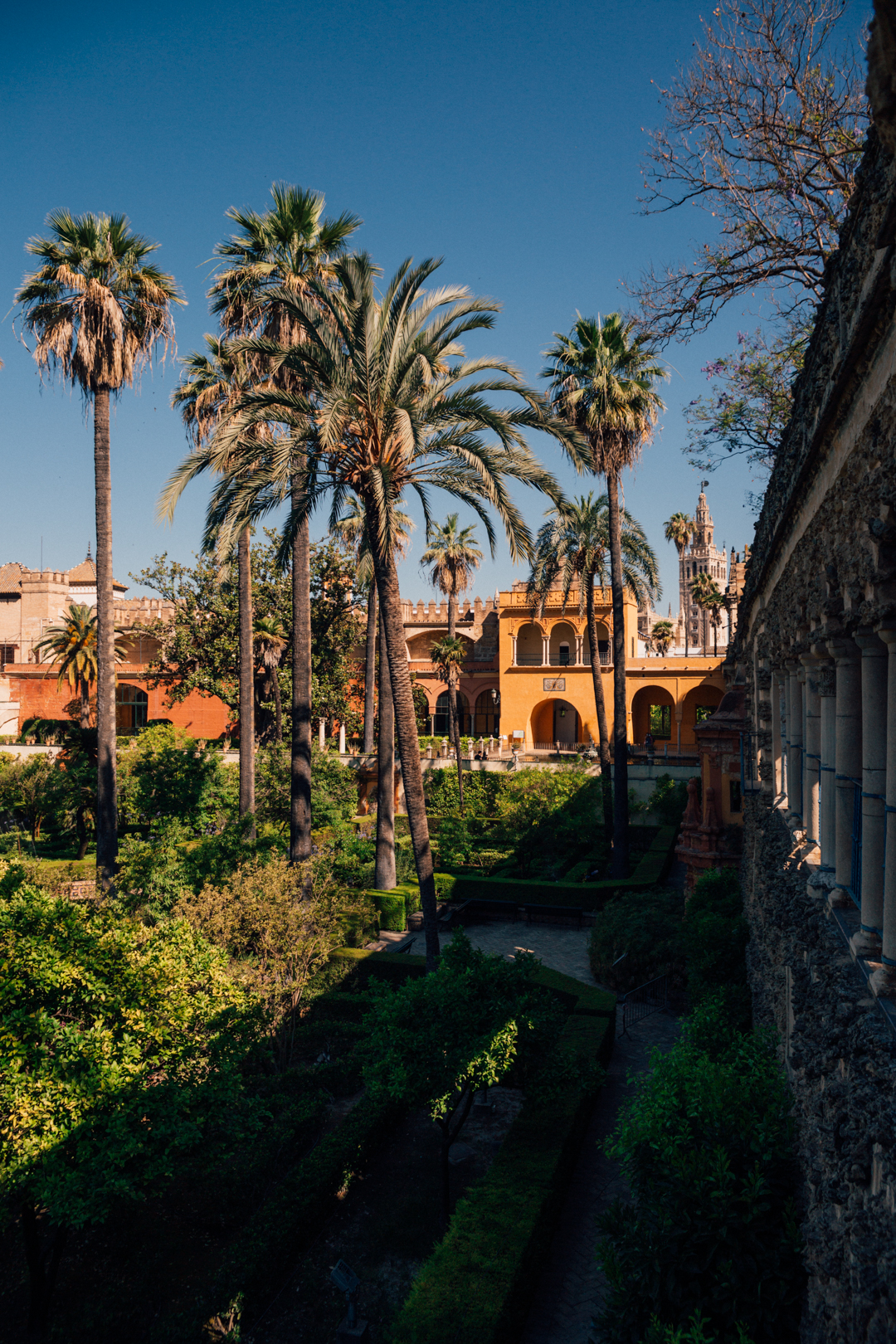 Option 2: Malaga to Seville Day Trip with Rental Car
Driving to Seville makes the most sense if you have already rented a car for your stay in Malaga.
If this is the best option for you, here are a few things you should be aware of:
If you're visiting Seville, I think it's safe to presume you want to see the two most important monuments – the Cathedral with Giralda Tower and the Royal Alcazar. These are super popular places to visit, and tickets sell out weeks in advance, so buying your tickets as soon as possible is very important. I have added the links for both options below.
The distance between Seville and Malaga is 213 km
The journey should take about 2.5 hours, depending on the traffic and which route you are taking.
As the drive is fairly long, I recommend leaving Malaga as early as possible so you have plenty of time to explore Seville on your day trip.
The outline of the journey is on the map under this section.
What to see in Seville on your day trip? Skip to the section below to check my suggestions for this day trip!
BUY ONLINE: Skip the Line Tickets to the Cathedral & Giralda Tower of Seville
BUY ONLINE: Skip the Line Tickets to the Royal Alcazar
Option 3: Malaga to Seville Day Trip with Public Transport
If you're considering using public transport, it's a convenient option thanks to the direct train connection between Seville and Malaga.
Below you will find all the details you need to plan this day trip by train.
There are two types of trains to Seville – direct rain, which will get you to Seville in under 2 hours and connecting trains via Cordoba, which take longer, but the tickets are usually a bit cheaper.
For the journey from Malaga to Seville, there are roughly 8 to 10, sometimes up to 12, connections per day.
The first trains to Seville leave Malaga at 6.37 am
To make the most of your time in Seville, I recommend taking the 9.10 train from Malaga Maria Zambrano, which arrives at Seville at 11.00 am, and then taking the last 19.35 pm train back to Malaga.
One-way tickets start at 19.95 euros one way, but can go up to 50 euros, if you buy last minute or there is high demand.
The trains leave from the main terminal, where they will scan your luggage before entering the platform.
Remember that booking your train tickets to Seville early at the Renfe website is super important. As you get closer to your travel date, they tend to get fully booked, and the price will increase.
Once you buy your tickets, you don't need to print them, just show the QR code as you enter the platform where they check the tickets.
Seats are normally assigned with this train. If you don't see an option for seats, they will assign them automatically at the ticket checkpoint before boarding the train (a lady will hand you a paper with your seat number).
Well, that was fairly detailed, wasn't it?
So what to do once you get to Seville?
I have added my suggested itinerary for one day visit below.
Option 4: Malaga to Seville Day Trip with Taxi
The last option, which is the most expensive one, is using a taxi for this trip.
According to estimates online, this trip would cost you around 230 to 280 euros one way for a standard car with up to 4 people sharing.
Suggested Itinerary For One Day Trip
Before You Arrive in Seville
Before you arrive in Seville, booking the tickets to the monuments is the most important thing.
Tickets to the Royal Alcazar are available here, and you can also get skip-the-line tickets for the Seville Cathedral and Giralda Tower
Try to get the first tickets possible, and make sure you check your arrival time for either a car trip or train properly to be there at least 20 minutes before your time slot. It would take you about 15 minutes from the train station to get there by a local taxi.
Morning in Seville
Visit the Cathedral and Giralda Tower – allow approximately 1.5 to 2 hours to see the whole cathedral and climb the Giralda Tower.
The entrance has a dedicated time slot, so make sure you plan your arrival accordingly. Also, the entrance to Giralda Tower has a dedicated time slot, so don't miss it.
Lunchtime in Seville
Once you're done with the exploration, walk up from the Giralda tower until you hit a street lined with tapas bars to find a nice place for lunch.
I really liked the Cerveceria Giralda Bar, which is built on the grounds of old Arab baths with most of the features still preserved.
Afternoon in Seville
In the afternoon, walk back down the road towards the Cathedral, and you will see a huge pink wall with a big gate on your left side – that's the Puerta de Leon, the main entrance to the Royal Alcazar of Seville.
You will easily need 2 – 3 hours to see it, especially the garden.
Early Evening in Seville
If you still have time, feel free to explore the old town of Seville, which is full of beautiful corners and tiny squares, with tapas bars scattered around and locals chatting away until late at night.
Malaga to Seville Day Trip: Practical Travel Tips
Here are some practical tips that will make your trip to Seville much more enjoyable:
Wear comfortable shoes and clothing – Seville is notoriously hot in the summer months but also in early spring.
Take a water bottle with you everywhere you go.
For conservation reasons, only a limited number of visitors are allowed in the Alcazar Palace per hour. Currently, the maximum admittance for the chosen time slot is 250.
It's nearly impossible to get the Royal Alcazar tickets for the day from the ticket office (Patio de Banderas), even if you travel off-season.
There are security scans before the entrance to the Alcazar, do not bring any sharp objects, hazardous items or food inside. No large luggage allowed, not pets (even if your dog fits in a bag, it's still considered a pet).
There is more than one entrance to Seville Cathedral, and that's for a reason – one for those who want to buy tickets on the spot and one for those that have bought tickets online.
If you buy your tickets online, you can access the cathedral from the entrance under the Giralda Tower.
The climb to Giralda is not suited for those with serious health issues – there are inclined ramps, not stairs, that will take you to the top, and it can easily take 15 – 20 minutes of climbing up to reach the top. Also, if you have vertigo or don't like tight spaces, you might want to skip this.
Once you enter the line to get to Giralda Tower, you cannot leave and re-enter. The same applies to the entrance to the Cathedral.
BUY ONLINE: Skip the Line Tickets to the Cathedral & Giralda Tower of Seville
BUY ONLINE: Skip the Line Tickets to the Royal Alcazar
Malaga to Seville Day Trip: Frequent Questions
Is Seville a good day trip?
Yes, it is! Depending on how you travel there and how much time you have, there is so much to discover in Seville, and you won't get bored even after staying there for 5 days. Some of my favourite spots, besides the most popular sights like the Alcazar and Cathedral, are Palacio Duenas, Casa de Pilatos, Plaza de Espana, and the old town of Seville.
Is Seville worth visiting?
For me, it is by far the prettiest city in Southern Spain and also one that has the most to offer.
Seville will charm you with its idyllic romantic old town, impress you with UNESCO World Heritage sites (a lot of them used as movie locations) and utterly capture your heart with its culinary delights. You will love it no matter if you have only one or five days to spend here.
Can you do a day trip from Malaga to Seville?
Yes, you can! There is a direct train connection available between Malaga and Seville, which makes planning a day trip to Seville pretty easy.
How often do the trains run from Malaga to Seville?
There are around 10 train connections per day from Malaga to Seville, with an average travel time of 2 hours one way.
Can you see Seville in one day?
In one day, you can easily see two of Seville's main highlights: the Seville Cathedral with Giralda Tower and the Royal Alcazar. If you have a bit of time left, you can spend it exploring the old town.
Day Trips from Malaga You Might Like
Malaga: Most Popular Activities & Tickets
Southern Spain Travel Tips
BEST CAR RENTAL
To rent a car, I highly recommend Discover Cars, an award winning price comparison site for car rentals.
BUS & TRAIN TICKETS
To get the cheapest bus or train tickets, take a look at Omio to find the timetables and prices.
LOCAL TOURS
Local travel companies offer many day trip options from almost all the destinations in Southern Spain. You can check them out here.
HOTELS
I have been using booking.com for all my trips in Spain and abroad, and it's the best place to book your hotel.
LUGGAGE STORE
If you would like to leave your luggage behind to explore the city on your last day, you can use Radical Storage service, which lets you book luggage storage in all the destinations in Spain.
LOCAL SIM CARD
If you want to avoid surprising extra charges from your operator, you can use a service like Airalo, where you can buy digital packs for e-sim cards.
Disclaimer: This post contains affiliate links – if you decide to book using one of the links, I will earn a small commission that helps me run this site. This is at no extra cost to you.